Homeschooling in Houston.... where do we even start? This is a question I get a lot… and I also wanted to know the answer.
Fortunately this community is full of experts that are nice enough to share their knowledge! Below are resources to get us started with Homeschooling in Houston. (And I did start homeschooling in Houston!)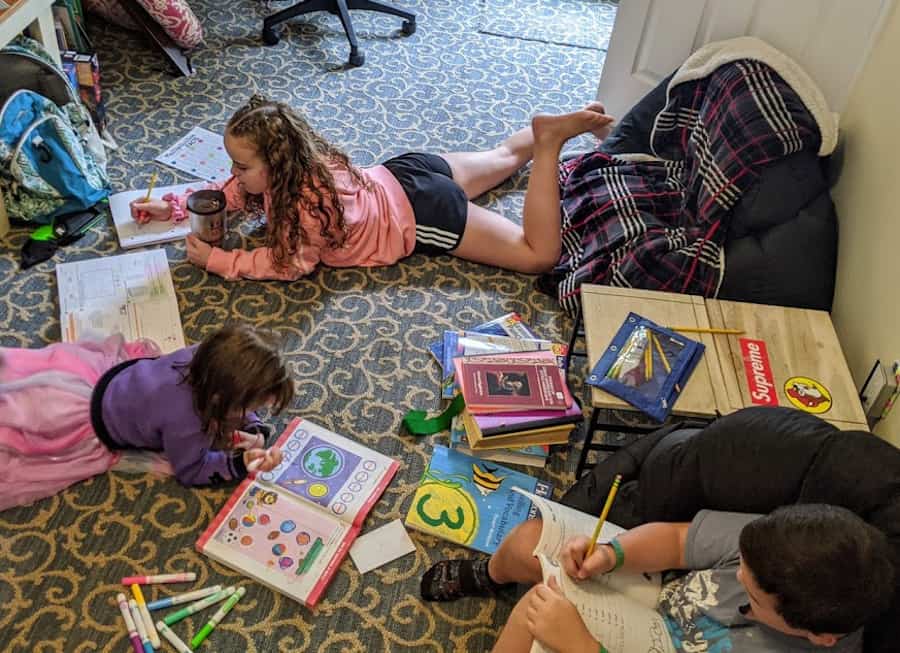 Jump to:
Get started Homeschooling in Houston:
Texas Home School Coalition

Learn about the laws and watch a series of videos on what to consider before homeschooling, and how to start.
There are also a couple THSC Homeschool Conventions.

The Homeschool Store

Not only do they have supplies and curriculums, but they provide all the information you need to get started.
Learn what subjects each age needs, watch videos about getting started and let the knowledgeable staff guide you.
Find a Homeschooling Group:
You can find a Homeschooling Group in your area. These are a huge source of information and resources. Some groups are:
Tell us if you have more you recommend!
University Model/Co-op Homeschooling Options:
Some schools offer hybrid programs where you are onsite for a couple days and homeschool on the other days.
Trinity Classical School – On-campus classes meet two days per week (Monday and Wednesday), with at-home learning occurring on the alternate days.
Kingwood Bible Church has an excellent home school program.
Legacy Prep Christian Academy (The Woodlands) – University model school that is half private school half homeschool.
Some private Co-Ops allow kids to attend a "school" a couple days a week and to teach at home the rest of the week.
Homeschool Curriculums:
Houston Homeschooling Events:
Find Houston Area Homeschool Days, Labs and Classes.
For Houston Area Homeschool Days, Labs and Classes, go HERE!
Houston Homeschool Sports:
HYCA (Homeschool Christian Youth Association) provides home schooled young men the opportunity to compete and excel in competitive basketball. They have teams to accommodate boys ages 9 through the High School Varsity Level. They compete against public schools, private schools and homeschool organizations.
Thanks to Amy H, Kimberly R, Pat S, Nicole W, Kyla H, Sarah C for getting me started!
If you have more suggestions for homeschooling in Houston, let us know!