Are you looking for the Houston homeschool classes? Here's the list of homeschool days, labs and classes.  And please tell us what to add!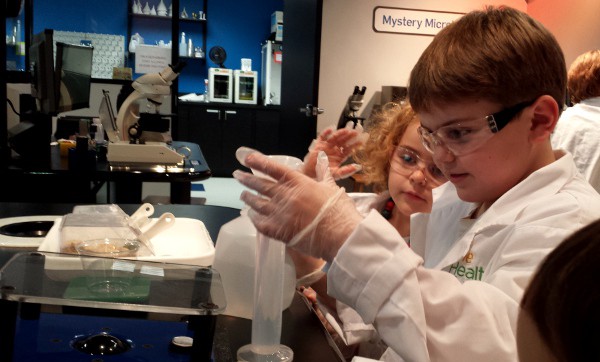 Museums/Education Centers Homeschool Days:
Houston Health Museum - Labs and classes are available for homeschool families. Get the details HERE.
Museum of Fine Arts Houston - The museum has a Homeschool Family Workshop for kids 6 and older. Be sure to pre-register.
Glassell Junior School (Museum of Fine Arts Houston) - Full and half semester formal art classes for homeschool students ages 4-18.
Children's Museum of Houston - Homeschool students unlimited access to 14 galleries. Pre-registration is required (and no dates are on the calendar at the time of this post).
Rosenberg Railroad Museum - Throughout the year, homeschooled students, ages 7-12, are invited for educational classes and events.
Space Center Houston - Learn about space exploration at Home School Day. Be sure to pre-register.
Zoos/Aquariums Homeschool Classes:
Houston Zoo - Homeschool activities are offered twice each month. Get the details HERE.
Downtown Aquarium - Homeschool students are invited out for an educational day at the Aquarium.
Moody Gardens - Discover the amazing world of rainforests and oceans as you participate in programs and exciting, hands-on activities.
Farms/Nature Centers Homeschool Activities:
Houston Arboretum and Nature Center - A different 3 week science unit is taught each month for kids ages 5-12. Get the details HERE.
George Ranch Historical Park - This living history ranch has a Tales of Texas Homeschool Day, geared at kids in grades 2-5.
Sports Homeschool Activites:
Aerial Artz - Join the homeschool class or set up your own group. Kids can do aerial sports on trapeze, lyra, silks and more.
Iron Sports Gym - This official American Ninja Warrior gym has a home school class, for kids age 5 to 17. Get the details HERE.
Discovery Gymnastics - Year round classes on Tuesdays and Thursdays, for ages 5-12.
Homeschool PE Class - HCYA Sports Day is an intramural physical education program for homeschool students from ages 6 through 18. They meet twice a month.
For more Houston homeschool resources, go HERE!