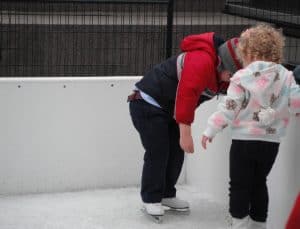 I really really really love when the ice rink opens at Discovery Green. I love this outdoor activity in the mild winters of Houston.
Each year, Discovery Green's model boat basin is transformed into an outdoor ice rink using renewable energy and water recycled from Kinder Lake.
We go multiple times each winter and the big kids (now 6 and 4) love it. And, I've never had to step on the ice.
The rink rents out double bladed skates, in kid sizes, making it easy for the kids to learn. The rink also has a small area for the youngest skaters to practice.
Each year I've been carrying a baby and have just stood close by, on dry land, while the other kids have had a blast. But I think my baby excuse is gone this year.
Baby James is now 2 and I see a pair of double bladed skates in his future. And if James is skating, I should probably teach myself to skate.
If you go, I will be the adult clinging to the side of the rink while 3 kids skate circles around her. Feel free to come give me a lesson or just join in the fun!
The rink is open daily, Friday, November 22, 2013 and continue with an extended skating season through Sunday, February 2, 2014.  Always check the website before going, just in case there is a special event or Houston is just too hot for the ice.
Admission is $12 per person, which includes tax and skate rental.
Weekly events at The ICE:
Monday – Cheap Skate Nights, skate for $5 per person.
Tuesday – Jazz on Ice, live jazz by ice-skating Jawad.
Thursday –Chill with friends while grooving to music by a DJ.
Friday – Silver Screen, family-friendly movies.
Saturday – Skate with Santa