I am sure you have noticed the mini murals popping up all over the area seemingly overnight! AND NOW WE HAVE A MAP and SELF GUIDED TOUR! Find it below.
After a bit of research, we found that the #MiniMuralsHOU project was created and curated by UP Art Studio in partnership with local artists. Their vision is to turn traffic signal control cabinets into works of art.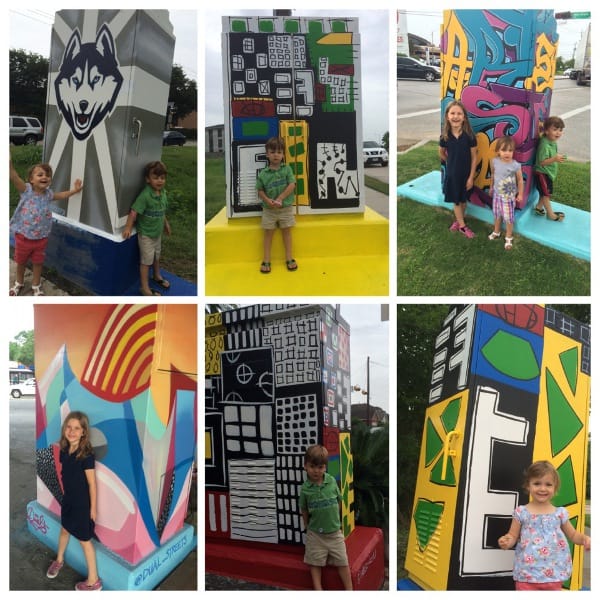 At the time this was originally posted, there were 12 different murals completed, mostly in the SW Houston area. Now there are 20 more, all over the city. (You can keep track on 
Mini Murals' Facebook
page!)
Over three days, it was our family's mission to track down all 12 with the help of this map, though at the rate they are releasing I am not sure if we can keep up!
The kids now look for new ones when we are driving in the car and since I had them take turns posing they also remember who posed next to which mural.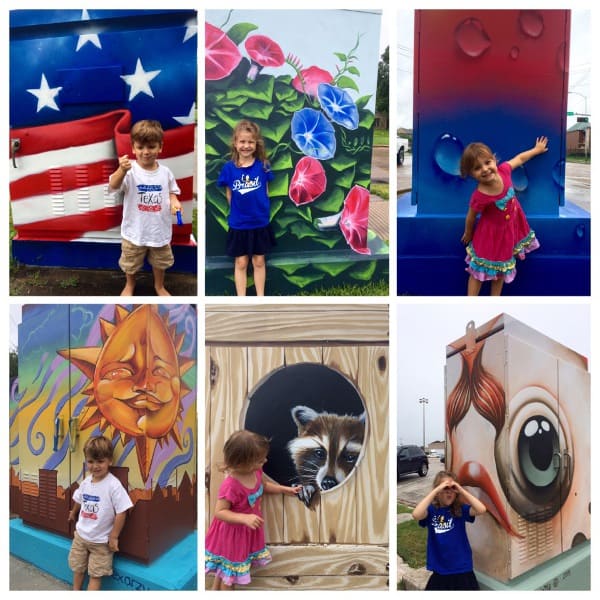 MAP:
Updated 6/21/16... we NOW have a Mini Murals map thanks to Dr. Steven Vaughan of Contemporary Dental!
SELF GUIDED TOUR:
Updated 12/13/18... you can NOW take a self-guided tour. Fine it HERE!
TIPS: It was way easier for me to only take one kid out of the car at a time. It also meant that we could make most stops quick and since many of the murals are located minutes away from each other, we could see a bunch in no time at all!
The most challenging mural for me was the one at S. Post Oak and West Bellfort. It is located under an underpass, which meant we needed to park and walk instead of pulling up alongside it. Also, every time we drove by there was a homeless man there.
For that one, I waited until my husband was home to watch our two youngest and I only took the oldest with me. We made a blessing bag for the man with toiletries and a few snacks. Our plan was to give him the bag and ask him if we could snap a quick photo. When we arrived, however, there were FIVE men. They were all very cordial and we took a very quick photo, though I did feel sorry we didn't have more bags with us.
So far, we've enjoyed this art scavenger hunt in our neighborhood and can't wait for more Mini Murals to release. I am sure as they spread all over the city it will also give us the opportunity to explore different neighborhoods and get to know Houston a bit better.
The project is made possible by the support of Mayor Annise Parker, Houston City Council Member Larry V. Green, Houston Arts Alliance, Fresh Arts and Brays Oaks District.
Participating artists so far include: 2:12, The Artist Alex Arzu, Ana Maria, Anat Ronen's murals, Dual, GONZO247, Gabriel Prusmack, Jessica Guerra, Lee Washington, Mr D 1987, Pilot FX, Shelbi-Nicole, w3r3on3, and Wiley Robertson.
*Sidenote: It has also been fun to see some of the same artists who participated in #GorillaArt murals do work on a smaller scale. Both Anat Ronen and GONZO247 have murals in both projects.
About Amanda S.
She and her husband moved to Houston from California in 2009 and are now raising three freshly minted Texans. When she is not chasing around her preschooler and toddler twins, Amanda freelances as a publicist. She loves good food, a nice glass of wine, and the sound of silence. You can follow her on Twitter and Instagram @KismetSorena where you can expect to find an overwhelming amount of pictures of her children.