Having fun with the family and exploring Houston can be easy! If you have a few hours, we have ideas on how to spend them with the kids.
In this Half Day in Houston series, find a place to park, play, explore and eat… all in one spot. Pick what you like or combine with another Half Day post!
In this adventure, feed nearly 40 Houston Police horses for free!  Visit the Houston Police Mounted Patrol Stables and then Keith-Wiess Park!
Park:
Find free parking in the parking lot at the Mounted Patrol Stables. Drive over to the park and find more free parking.
Explore: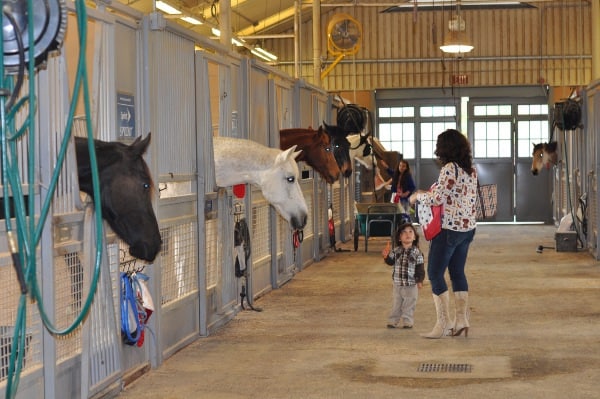 1. Houston Police Mounted Patrol Stables - 5005 Little York Rd, Houston, TX 77016 - Free 
Visiting the Houston Police Departments Mounted Patrol Stables might just be the coolest free thing to do in Houston.
Bring your own carrots, quartered apples and peppermints, and you can stop in to visit the horses, during visiting hours.
There are nearly 40 horses, so bring a big bag of carrots... like the size they sell at Costco. Also, know that big carrots are a lot easier to feed to the horses than apples because you won't get licked or bit!
After feeding all the horses, you can eat a picnic lunch on the lawn outside the stables... or you can head to a park.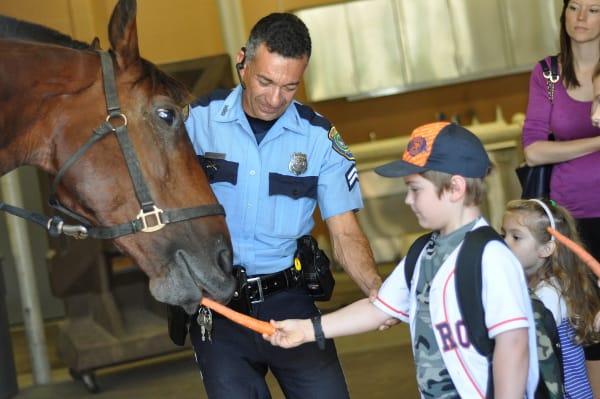 2. Keith-Wiess Park - 12300 Aldine Westfield Road, Houston, TX 77039 - Free
Just a short drive from the stables is Keith-Wiess Park. This giant park has a trail, playground and lake. Learn more about it HERE!