Join Graeme's Run on February 22, 2021 for fighting congenital heart defects... America's #1 birth defect.
The event has been re-imaged for 2021, but the good fun continues!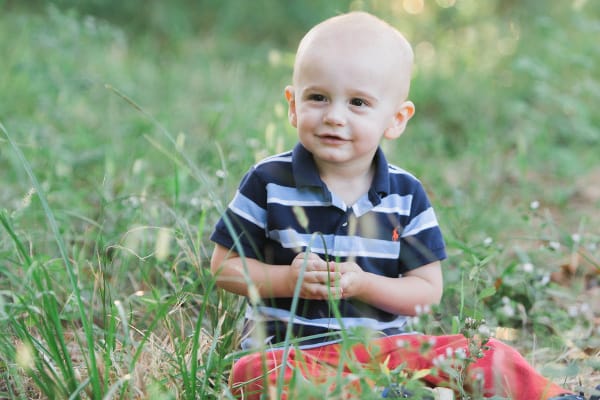 From Houston mom, Stephanie:
On December 18, 2012 our son, Graeme, was born. We had an emergency delivery after the doctor detected his heart rate in the 70s at my 34 week appointment.
He was diagnosed with Double Outlet Right Ventricle, Malposed Great Vessels, VSD, Coarctation of the Aorta, Straddling Mitral Valve, Aortic Valve Hypoplasia, and Complete Heart Block.
He was rushed to the Texas Medical Center where he underwent a coarctation repair, a pacemaker was placed, and a Pulmonary Artery band was placed. With 2 surgeries under his belt our little trooper was released from the hospital after 44 days.
After living a happy and for the most part normal life, we lost our sweet angel on May 3, 2015 at 2 ½ years old. We were devastated and still are in complete shock, as we are left to try to find our new normal and purpose.
We have decided to put our energy into raising awareness and funds for Congenital Heart Defect (CHD) research.
We knew nothing about heart defects before Graeme and were saddened to learn:
• Congenital heart defects are America's and every country's #1 birth defect. Nearly one of every 100 babies are
born with a CHD
• Congenital heart defects are the leading cause of all infant deaths in the United States
• Each year approximately 40,000 babies are born in the United States with a congenital heart defect
• Thousands of them will not reach their first birthday, and thousands more will die before they are adults
• Each year over 1,000,000 babies are born worldwide with a congenital heart defect
About The Children's Heart Foundation & Fighting Congenital Heart Defects:
The Children's Heart Foundation was founded in 1996 and is the country's leading organization solely dedicated to funding congenital heart defect (CHD) research.
The Children's Heart Foundation has funded $11.1 million in research projects and is dedicated to bringing health, hope and happiness to children and families impacted by a CHD. We want to continue to be a part of that fundraising in Graeme's honor.
With some wonderful friends we came up with the idea of a family fun run. We know everyone loves a good fun run, especially one that's close to home and brings awareness and funds to such a great cause.
Details about Graeme's Run:
This will be our 6th year fighting congenital heart defects, with Graeme's Run. The date is set for February 20, 2021 (February is heart awareness month).
Last year we had over 1,600 people in attendance and
raised over $130,000 for The Children's Heart Foundation and are looking forward to what this year will bring.
We are hopeful that we can have the 6th Graeme's Run in person, but will keep everyone updated as it gets closer! Look at the website for the latest plans!
If possible, there will be full of fun activities for everyone! We will have a 5K and a 1-mile family walk in Old Katy starting and ending at No Label Brewery. We would love for you to be a part of this great event.
100% of funds raised will go to The Children's Heart Foundation

Thank you for reading our story and helping us honor our precious son,
The McDaniel Family (Robby, Stephanie, Mason, and Juliet)
To find out more visit: www.graemessuperheroes.org
phone: 832-221-9116
email: graemessuperheroes@gmail.com
Facebook: Graeme's Superheroes