Address:  4617 Montrose Blvd, Houston, Texas 77006
Cost:  $12 and up. Free parking.
Appropriate Age: 3+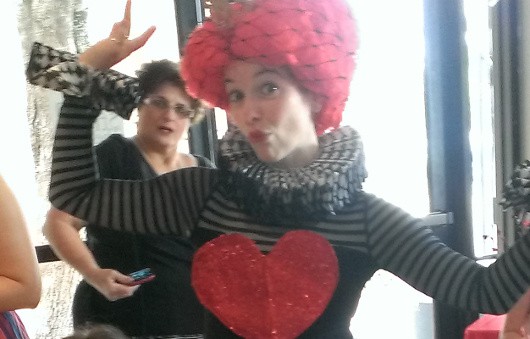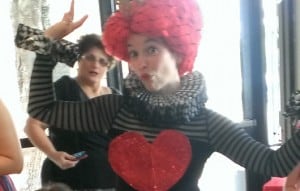 It always amazes me when a book full of magic, talking animals and nonsense can come to life in the real world. I understand writing and making anything "true" on paper. But we live on earth that is under the constraints of gravity, biology and proven absolutes, how can Alice fall through a rabbit hole, shrink in size and go to court with a deck of cards? Well, it happened right before my eyes at Main Street Theater's production of Alice in Wonderland.
I should not have been surprised, because Main Street Theater is always making art come alive for me and my kids. We have seen a spider weave webs in Charlotte's Web, we've seen the animals take over the farm in Duck for President and we've seen a classroom full of naughty kids suddenly behave in Miss Nelson is Missing. Since we started attending performances a year ago, Main Street Theater has been bringing magic to our world and making stories jump out of the books.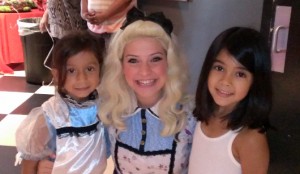 Through July 28, audiences can see the whimsical story of Alice in Wonderland come to life at the Chelsea Market theater. The casual, intimate theater is the perfect place to introduce children to theater. Jeans, shorts, ball gowns and Mad Hatter hats are all acceptable attire choices. You can pick any seat in this small theater and still see each smile on the Cheshire Cat or wiggle of the Caterpillar.
This production of Alice in Wonderland has dozens of parts but is put on by just 10 actors. It is amazing how one person (Mark Ivy) can change from French Mouse, to Pan, to Sun, to Mad Hatter, to Wicket and then to Mock Turtle with a quick wardrobe change and character makeover. Mark was very memorable as the French Mouse, Mad Hatter and Mock Turtle, and it was only after the play that we realized he was the actor behind them all. The same goes for the 9 others in the play. Macy Lyne, the costume designer, did a fantastic job.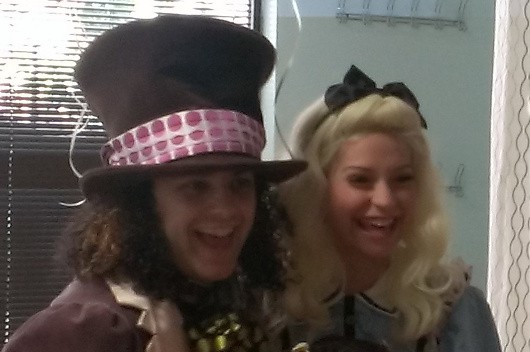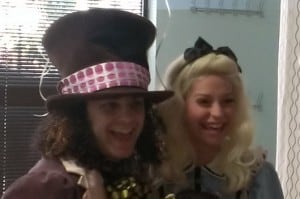 Alice is played by Shanae'a Moore. She has a beautiful voice and her childlike curiosity makes you believe she is the Alice you have read about. She followed the White Rabbit (Scott Lupton) down the rabbit hole. I do not believe this frantic rabbit stood still for a minute as he guided Alice and audience through Wonderland.
Marco Camacho played many parts, but our favorite was the wiggly caterpillar that taught Alice that she is always the same person inside. The same is true for Beth Lazarou, but we remember her best for saying "Off with her head!" as the Queen of Hearts. Ashley Johnson made us sneeze at the Duchess, Rodrick Randall made us smile as the Cheshire Cat, Zack Varela caused quite a fuss when he stole the Queen's tarts as the Knave of Hearts and Adrienne Whitaker can dance like a Butterfly can fly. Teresa Zimmermann also had many roles as Duck, Baby, Tweedledee, Doormouse, Wicket and more. In the croquet match, she lost her wig in the shenanigans. And to be honest, she handled it so well, that I am still not sure if it was part of the play or not. Teresa is fun to watch.
Helping make the magic jump from the stage was Jimmy Phillips (Director), Steven Jones (Musical Director), Claire A. Jac Jones (Scenic Designer), Eric L. Marsh (Lighting Designer), Shawn W. St. John (Sound Designer), Rodney Walsworth (Properties Design), Kevin Zahradnik (Stage Manager), Vivienne M. St. John (Theater for Youth Producing Director), Rebecca Green Udden (Executive Artistic Director). These people have technical jobs, much like I do, but the results of their work is out of this world. For all the work that was done to make the unreal become real, I'm surprised tickets start at just $12.
I took 4 of my favorite kids, ages 4, 5, 6 and 7, to the show last week. The oldest one is the reader who looked amazed through the 1.5 hour production. The youngest one danced in her seat and applauded wildly after each song. The middle kids did both.
These art and magic lovers are excited for The Cat in the Hat starting September 25, 2013. Until then, we'll keep the magic alive with the Main Street Theater Summer Camps.