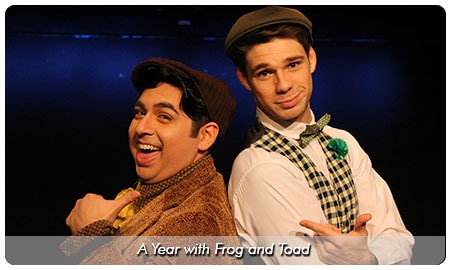 A Year with Frog and Toad
is at Main Street Theater's Youth Theater from February 26 to April 5, 2014, with many shows over Spring Break. It is based on the books by Arnold Lobel and shares the same sweet message of friendship and self-acceptance.
Unlike the books, the show at Main Street Theater is alive, high energy and full of outstanding music. Songs fills the hour long show, and each time an actor starts to sing, I think I have a new favorite. But then the next actor outdoes the first, and over and over. Frog, Toad, Snail, Turtle and the Birds were fabulous and are very entertaining to watch.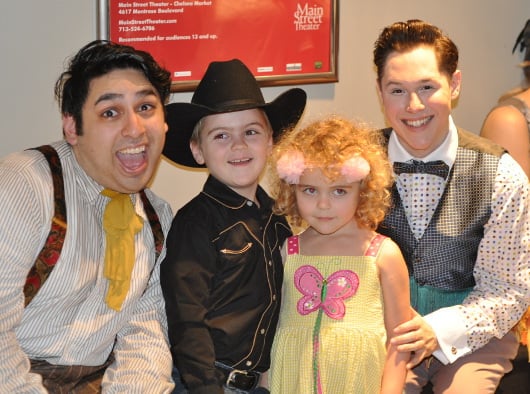 I was fortunate enough to see the show two times last week. Once with a school group and once during the weekend performance. The weekday school performance is shorter with no intermission. It is perfect for teachers to fit the field trip into the school day. At the end, the kids get to ask the actors questions, and talking to the actors is clearly the kids favorite part.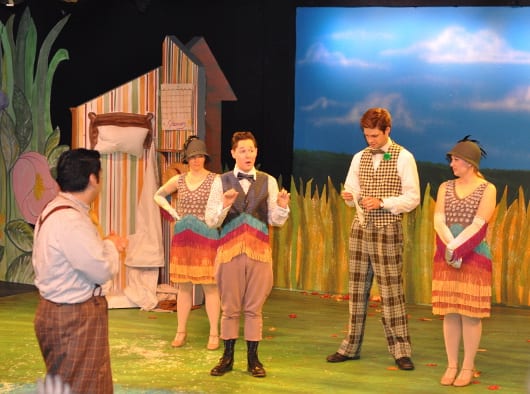 The weekend performance is a little over an hour, plus a 15 minute intermission. While the weekday show is really good, this show is fantastic. It has more scenes and more chances to fall in love with the story. Which, of course, we did.
I took my own kids to the weekend performance. One was a princess and one was a cowboy and we were welcomed into the casual theater. At Main Street, ballgowns, blue jeans and costumes are all okay. The only requirement is the kids are age 3 or older.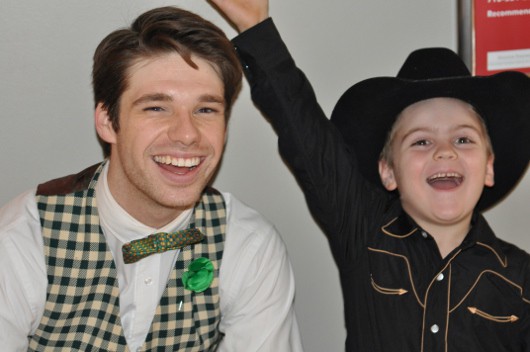 We then giggled and danced in our seats for the length of the show. We saw many familiar actors from previous Main Street Theater youth theater and main stage productions.
The small cast of Scott Gibbs, Zack Varela, Stephanie Dew, Scott Lupton and Beth Lazarou played a lot of parts and I'm not really sure how they changed costumes so fast. I'd blink my eyes and they would go from bird to mouse to squirrel to frog to mole and back. In fact, I'm not even sure how a person could convince the audience that they were an animal. But they did. Without wearing animal costumes. Repeatedly.
Scott Gibbs, as Frog, and Zack Varela, as Toad, may have been the best possible combination. Their friendship was funny, sweet and believable. Stephanie Dew and Beth Lazarou played many parts, including Bird, Squirrel, Mole, Mouse and Turtle, and were perfect as each one. And you really need to hear them sing.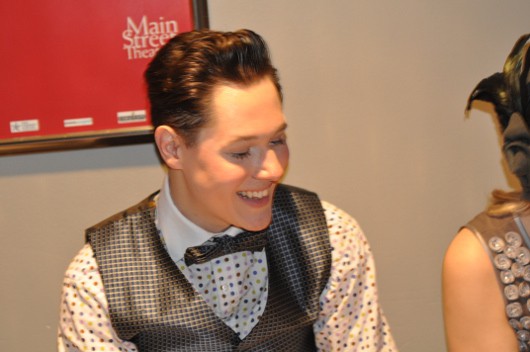 Scott Lupton stole the show as Snail. We have been reenacting his slow motion mail delivery since we saw it. We've now seen Scott in several Main Street Theater shows and can't wait to see more.
During the show, my son kept whispering to me, "How'd they do that?". I bet these people know: Jodi Bobrovsky (Set Design), Lauren Dolk (Choreographer), David Gipson (Lighting Designer), Macy Lyne (Costume Design), Rodney Walsworth (Properties Design), Alex Worthington (Sound Design), Danielle Docwra (Production Stage Manager), Vivienne St. John (Theater for Youth Producing Director), Rebecca Greene Udden (Executive Artistic Director).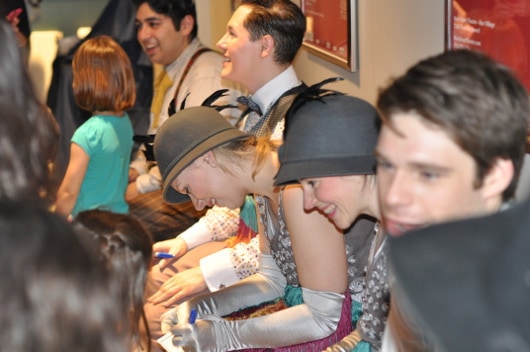 Afterward, the actors line up for pictures and autographs. Just like the school children like to the question and answer session, my kids love to meet the actors. Some day we'd also like to meet the people behind the scenes.
Be sure to go see A Year with Frog and Toad and get your tickets for the next shows:  James and the Giant Peach and Pippi Longstocking!