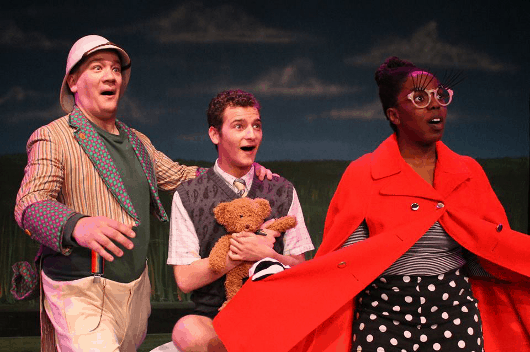 Main Street Theater - Chelsea Market
4617 Montrose Blvd, Houston, TX
Main Street Theater took another storybook, tore it open and invited Houston's kids to step inside. This time it is James and Giant Peach that came to life at this small theater in the Museum District.   Based on the book by Roald Dahl, James and the Giant Peach tells the story of James, his horrible aunts, a magic peach and a wild adventure.
Through May 17, 2014, young audiences can laugh and wiggle while they watch the story unfold just a few feet away. This theater welcomes everyone 3 and older to be a part of art.
I had the great pleasure of going on opening day with my favorite 6 and 4 year old. We've been many times before, and are always pleased. What is amazing is that Main Street Theater just keeps putting on great shows.
Like every other production, James and the Giant Peach took fictional characters and made them real, without out any silly gimmicks. The actors don't wear animal costumes, but rather, they dress as the character and you just believe they are lady bugs, grasshoppers, earth worms, spiders and centipedes.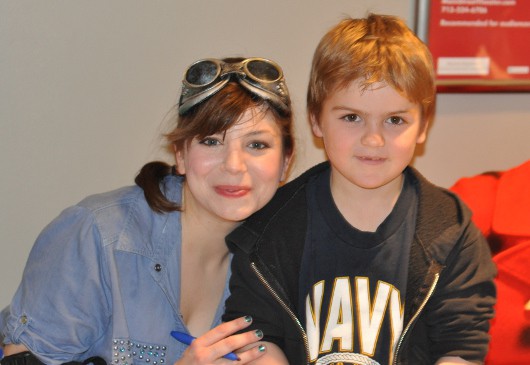 Of course, this is because Brittny Bush, Alan Hall, Joanna Hubbard, Shane Manning, Rodrick Randall and Michael Chiavone are so good at what they do. I wouldn't go to the store and think to buy repelling gear to dress as spider, but when Joanna Hubbard put it on, I believed she was spider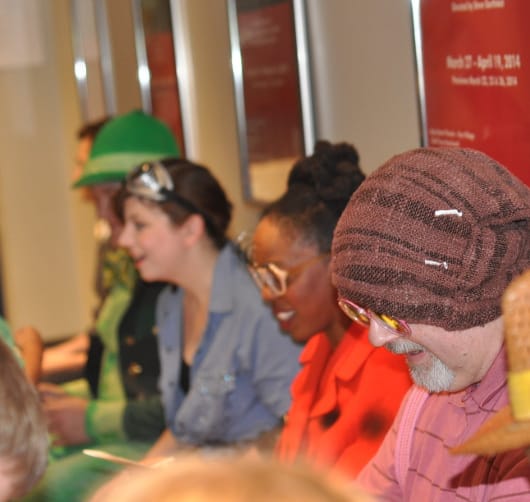 My kids laughed for the hour long show. Afterwards we got to meet the actors and take pictures. One little boy couldn't stop hugging them, and I could see why. After our amazing journey, across the ocean, and in a peach, we were really quite in love with them.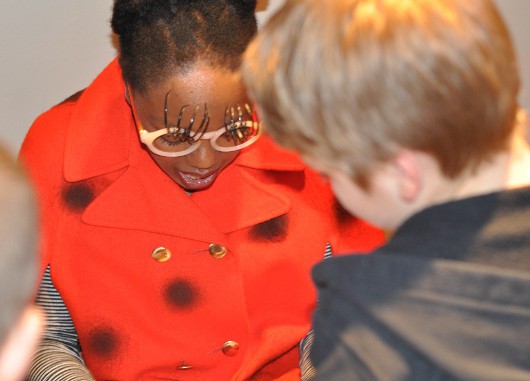 We went on this journey in the giant peach, which of course in not real, but sure felt that way during the show. With some paint on the ground, 2 sliding pieces of wood, lighting and sound, we went from seeing a tree, to the inside of the peach, to the top of the peach to living in the stone of the peach in Central Park.
I'd like to thank Troy Scheid (Director), Torsten Louis (Set Design), Macy Lyne (Costume Design), Eric Marsh (Lighting Designer), Rodney Walsworth (Property Design), Danielle Docwra (Production Stage Manager), Vivenne St. John (Theater for Youth Producing Director) and Rebecca Greene Udden (Executive Artistic Director) for that magical journey. And I'd also like to thank Earth Worm for risking his life to get his friends across the ocean.
Be sure to go on this adventure and tell us about it! And get ready for these upcoming shows: Pippi Longstocking, Lilly's Purple Plastic Purse, Madeline's Christmas, Stargirl, Flat Stanley, Tales of a Fourth Grade Nothing and Fancy Nancy!