Tips for Visiting the Houston Rodeo, from a Rodeo Insider: Where to park, where to find the least busy attractions, where to find the best deals and where to find the best restrooms!
Update: See the 2018 post HERE!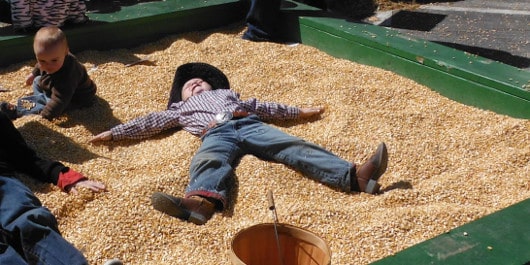 The Houston Livestock Show and Rodeo is here and I want to know how to rodeo like an insider. Lucky for me, Margaret is here to tell us how to do just that!
Margaret has been volunteering a a Gate Keeper for over 10 years and has a few tricks up her sleeve! She also lives walking distance from Reliant, and is a Texans season ticket holder, so she basically lives at NRG in the Fall/Winter/Spring!
(Update: See the 2018 post HERE!)
Here are her tips!
1. PARKING
If you are going to drive, especially if you are taking little ones and have strollers, juices, lunch bags, etc, I recommend parking in the Yellow Lot that is located off of S. Main between Murworth and Kirby (near Super Target).
There is a little traffic, but not as congested as Kirby/610. It's $12 now $20 and the nice thing is that there is a tram that is in the Yellow Lot that takes you and drops you off at the McNee Street which is near the entrance of the Reliant Stadium and Reliant Center.
You can fold up umbrella strollers. If you take a heavy/large stroller or a Radio Flyer type wagon, no worries… there are locations on the tram for that. I've even seen people wheeling in coolers before.
2. ATTRACTIONS
There are shows starting as early as 8am. The kids area usually starts kicking off at 9am. If you go with little kids (and to avoid crowds and traffic) – early is the way to go; I like to get there when things open.
Keep in mind that the kiddie carnival opens an hour or 2 after the attractions open. The adult carnival opens even later than that. Check the schedule before you go since weekday/weekend schedules are different.
Since the carnival opens later, I like to do everything inside (petting zoo, pony ride, checking out livestock, looking at the chicks, etc) and then head outside.
A little tip: If the petting zoo and the pony rides (extra cost for pony ride) is busy, there is another petting zoo and another pony ride outside near the kiddie carnival rides.
3.  CARNIVAL
As mentioned above, the kiddie carnival opens a little after the attractions. The adult carnival opens after the kiddie carnival opens.  If you are lucky, you have pre-purchased half price tickets (available only before rodeo starts in March), but if not, there are little stations throughout the carnival that sells tickets.
If it's busy and you don't want to wait in long lines, you can purchase a fast pass which gets to basically the front of the line, but you still have to purchase ride tickets in addition to the fast pass.
The hours are extended during the 2 weeks of Spring Break, so again, check the schedule. Kiddie rides typically open at 11am on weekdays and 10am on weekends.
If you have purchased a 50% coupon book, be sure to look through your book. There are coupons for buy 1 get 1 free game, free ferris wheel ride, free refills, etc.
4.  FOOD
This is Texas. Texans like to eat!
You can't leave without trying the chicken fried bacon at Yoakum Meat Packing Company. They have a location outside the food tent and inside Reliant Center food court.
Another favorite of mine (and I've tried them all) are the fried Oreos. Imagine a beignet filled with chocolate. Uh-mazing. These can be found at the food trailers located throughout the carnival.
Corn in a cup is another favorite if you want to stay somewhat healthy. Under the food tent, you will see many familiar names like Pappasitos, Pappas Steak House, Saltgrass, Berry Hill, etc. Go for something unique and try the small independent vendors. There is a burrito there that can feed a family of 4.
For those Starbucks diehard, don't worry, there is a "real" Starbucks located inside the Reliant Center near the food courts.
5.  YOUR OWN FOOD
If you have little picky eaters, like mine, bring "emergency" snacks and food, just in case they don't eat rodeo food.  Know that they do sell pizza and chicken strips (staple in our home away from home).
The rodeo DOES allow you to bring in your own food, water, juices, etc.
6.  OTHER THINGS TO DO
If you haven't seen "Mutton Bustin'", this is a must. This is located outside near the kiddie carnival area. Children between 5-6 years old ride bareback on a sheep. Yes, a sheep.
It is the funniest thing you've ever seen. If your child is between 5-6, and they are willing, it sure is something to experience. Make sure your camera/phone battery is super charged.
There are also pig races (also outside) that everyone enjoys. If your child is lucky, they may be picked to announce the start of the race. Check the schedule for times.
You don't see a lot of camels in TX, but you can ride one at the rodeo!
7.  SHOPPING
This is the best kept secret – a secret that women keep from men that is! If you can ditch your male counterpart (and the kids) for an hour – this is where you want to be.
There are high priced items and very affordable items. Many of the vendors are those that come to the Nutcracker market. There are also very unique items to buy as well. Every year, I make a girls only trip – and, if I can, I even make a trip by myself so I can have 1 focus. Shopping!
8.  MONEY
Cash is golden, as some vendors (mostly the food) only takes cash. Most places, especially the shopping, take major credit cards. There are ATM machines everywhere.
9.  HORSE ARENA
This gets forgotten a lot. The horse arena is located in a separate building all by itself. If you are a horse lover, there are shows that take place throughout the day, and lots of animals to see. There is also SHOPPING inside. Since this area doesn't get as much foot traffic, bargain and good deals are meant to be made here.
10.  RESTROOMS
NEW from 2016! Portable restrooms will be around the park…. replacing some of the portapotties!
Real restrooms (and baby changing stations) are located all over the inside of the Reliant Center. Another little secret, if you go up the escalators, there are restrooms upstairs as well. Less traffic and usually a lot cleaner!
The Rodeo office, committee offices, and Corral Clubs are located upstairs, so mostly committemen go into these facilities. If you need a quiet place to relax, you can do that upstairs too.
11.  TICKETS
-Season Pass: $25 gets you on the grounds the entire Rodeo season (kids 2 and under are free)
-Regular grounds: $10 for adult; $5 for children ages 3-12
-Value Wednesdays: $5 for adults; seniors age 60+ and children 12 and under are free for grounds only. For $10, get a Rodeo/Concert ticket that includes NRG park admission. 11am-4pm, games and some special food items in Kids Country Carnival are $2
12.  FOR THE GROWN-UPS
If you only have a grounds tickets, there is free entertainment throughout the park. There is entertainment at the Wine Garden and a daily lineup at the Hideout from 6pm to midnight. Look for the big white tent on the east side of NRG Astrodome. Open to 21 years and older