Tips for Visiting the Houston Rodeo with Kids & Strollers, March 4 – 23, 2014 at Reliant + Where to Get Discounted Carnival Tickets (Half Price!)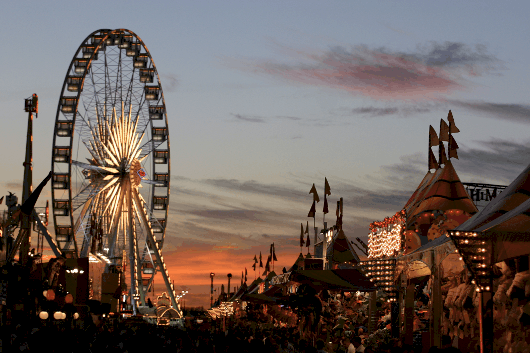 In our interviews with the
people of Houston
,  the
Houston Livestock Show and Rodeo
was the annual event that was most mentioned as being the favorite!
The 2014 Rodeo is March 4-23, 2014 at Reliant.  Go HERE to get all the information!  Go HERE to see the line up of entertainers!  And go HERE for tips from a rodeo insider!
Our tips for visiting are below.  Be sure to check the official website for new rules and last minute changes!  My favorites are the STROLLERS ARE ALLOWED and you can by DISCOUNTED CARNIVAL TICKETS before rodeo starts (here).
(Photo Credit: Greater Houston Convention and Visitors Bureau)
Tips:
Take METRORail.  METRORail is only $1.25 and free for kids under 5.  This is a lot cheaper than parking at Reliant, and, my favorite part is, it drops you off right at the front door of Reliant.  If you park, you will pay a lot of money and then have a long walk or shuttle ride to the gates.
Park at GreenStreet in Downtown for complimentary parking validation in the GreenStreet parking garage (located at 1301 Main), with a same-day purchase at any of GreenStreet's ten restaurant and retail tenants. Park at GreenStreet, jump on METRORail across the street, go to the Rodeo and head back.  Take your Rodeo ticket to any GreenStreet store, make any purchase, and get parking validated.
Strollers are allowed in Reliant Stadium for the rodeo and concert.  Once you are inside, there are stroller checks.  Or, if there is room and the staff is up for it, you can wheel the stroller to the wheelchair section and watch from there.  You can also take strollers in the livestock show and carnival area.  If you ride the carnival rides, you will need to park your stroller outside the gate.  (This always makes me nervous… but our stuff was untouched.)
 You can visit the Livestock Show and Carnival without going to the Rodeo and Concert.  If you don't want to see the bull riders and musicians, you can just buy the general admission ticket.  (If you do have the rodeo ticket, you don't need to get the general admission ticket.)
The rodeo takes a long time.  Last year the rodeo started at 6:45pm and Reba did not come on until almost 9:00.
The rodeo and concert are very loud.  After 30 minutes, my big kids were ready to go see the livestock show.
Kids under 3 get in to everything for free. 

 There is no charge for the Livestock Show or Rodeo and Concert.  

You can buy discounted carnival tickets before rodeo starts! You can buy half price carnival tickets all over Houston, including from this local mom!  There is no delivery charge if you pick them up at the gate.  Get tickets from AMY here!  (All money goes to the Rodeo.)
At the Carnival, we found a few kid rides for 4 tickets, but most are 6.  If you buy a book of tickets, it will go pretty fast.
Most rides require the kids to be 36 inches.  For many of them, they will let the parent ride with the smaller child.
Check out all the FREE things to do!  There is a lot to at the rodeo, and it does not cost anything (except general admission). Kids can check out the animals in the Livestock Show and the great kids area. Outside the petting zoo is free (but there is a charge if you want to buy food for the animals). Fun on the Farm is also a great place. Here the kids "work" on the farm and feed the chickens and pick the vegetables, sell the food at the farmers market and then get to use their money to buy a treat (like a rice crispy treat).
Get your drinks from Borden inside the Livestock Show.  My kids remember this every year. I think the Borden booth, in the kids part of the Livestock Show, has the cheapest drinks in the entire rodeo.  In years past, $2.00 got you a big milk or sweet tea and money goes a scholarship fund