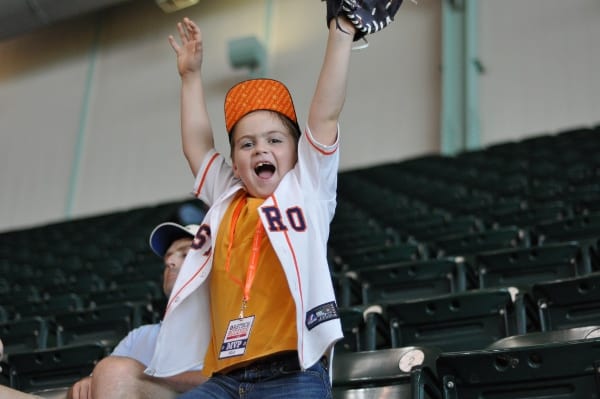 There is no better afternoon than one spent at Minute Maid Park. My kids, who never once showed an interest in baseball, now beg to go to the
Astros
games.
And why not? Who doesn't love to drive through the skyscrapers, walk on the busy city streets, show their very own tickets at the gate, watch baseball in the air conditioning, eat ballpark food and play at the stadium playground?
Tickets to the games are reasonable, the stadium is not too packed and the roof keeps everyone cool in the Houston summer.
Astros games have proven to be a great way to fall in love with baseball. It's easy for me, because nearby street parking is always available and the stadium is not a complete madhouse. It's fun for the kids because of the beautiful, covered stadium, with a train that heads down the tracks with homeruns and a giant playground.
Go for one game, or get season tickets. The best part about season tickets is that you can pick which ever section you want (even the cheap seats that we get!) and when you pick them out, you can ask Gordon for a personal VIP tour of the stadium... including the exclusive diamond club, dugout and field!
To learn more, contact Gordon Bowen, Houston Astros. 713.259.8788,  gbowen@astros.com