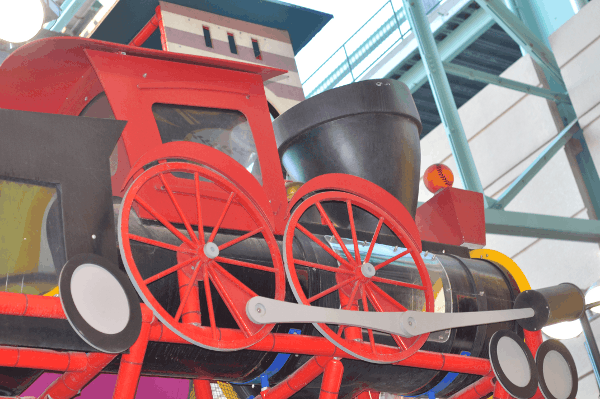 Update:  This playground has been closed at Minute Maid Park!
Address: Minute Maid Park, 501 Crawford St, Houston, TX 77002, by Section 132
Cost: Free with ball park admission
Appropriate Age: The rules say 4-12 years old, but on the day we visited, it was 3-12 years old.
Right next to section 132 in Minute Maid Park, on ground level, is Minute Maid Squeeze Play where kids can go wild. The play structure is a replica of the stadium and full of tubes, platforms and has a Minute Maid train.
Just behind the playground is a place where the kids can race the giant baseball player. There is also a virtual hitting game and pitching cage (but they were not open when we visited).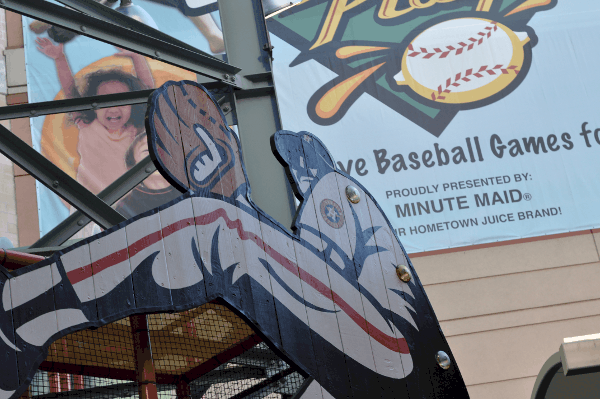 Families can enter through one door and then exit through another. There is no ChuckECheese stamp system, but there is some attention paid to who can exit the play area.
The age limit online says ages 4 to 12. When we were there, the staff was admitting kids 3 and older.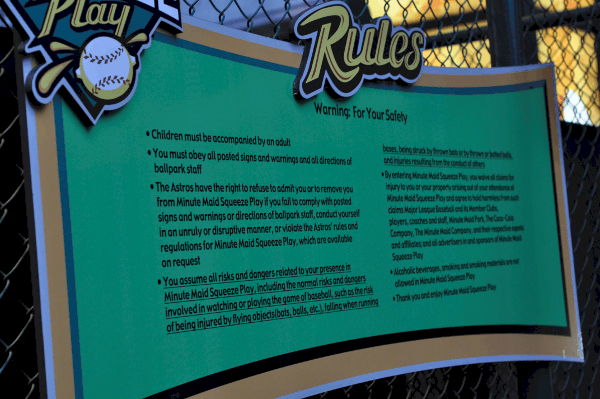 My son won Astro's tickets at his school and spoke of little else for weeks. Astro's games are great for us because the parking is pretty easy with all the surrounding lots and metered street parking, the stadium is not overly crowded or especially rowdy, the game is fun to watch and there is the playground!
After watching a little baseball, we walked around to section 132, looked out the window and saw the playground.
This playground goes upwards to make the best use of the small space. The tubes and platforms go much higher than your typical fast food playplace.
There are just a couple ways in and out of the tubes, so it's pretty easy to watch from the bench. Since it does go so high up, I did wonder if I'd be climbing to the top to rescue any of my kids, but fortunately no one had to see this.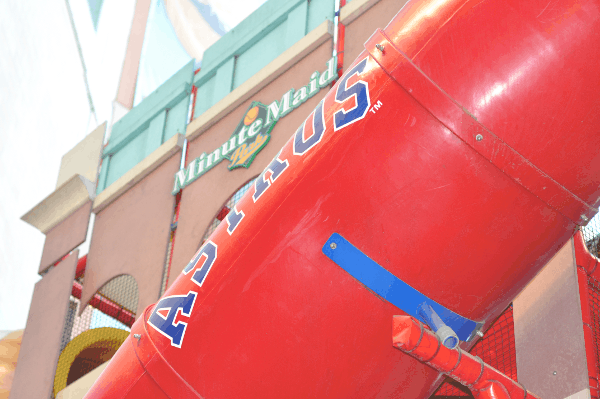 My kids had a great time running up and down and everyone seemed well behaved. There were some big kids that I though might run into the little ones, but everything went fine.
After some climbing, my 6 year old went to race the baseball player. In back of the play structure there is a giant wooden guy that "runs" between bases. Kids can line up and race him!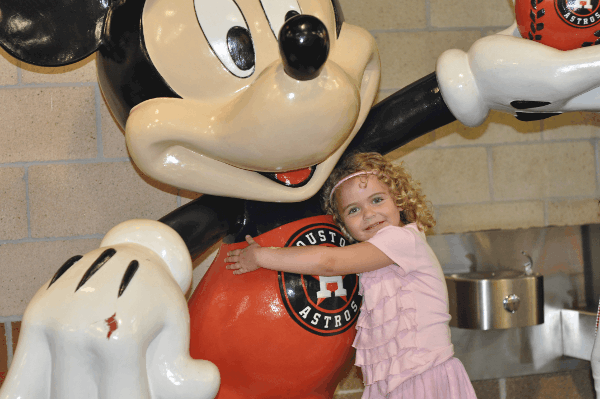 We had a great time at this playground and the Astro's game. We'll be back for sure!