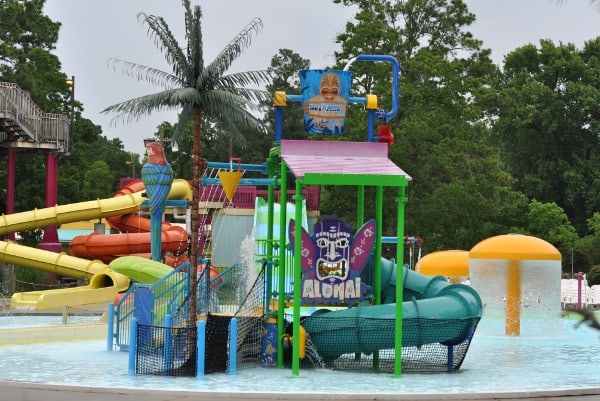 Address:
21300 Interstate 45 N, Spring, TX 77373
It must be summer break because the kids are out of school, the splashpads are running around the clock and the water parks are open! And we got to kick off summer right because Wet'n'Wild Splashtown invited us out for visit.
Wet'n'Wild is Houston's biggest water park and there really are activities for kids of all ages. Little kids can play at Wet'n'Wild Junior, Tree House Island, Blue Lagoon, Paradise River and the Wave Pool. Bigger little kids can body board at Flow Rider, tube down Big Kahuna and race down a lot of slides. And the bigger big kids can try slides that are so steep, my knees got weak just looking at them.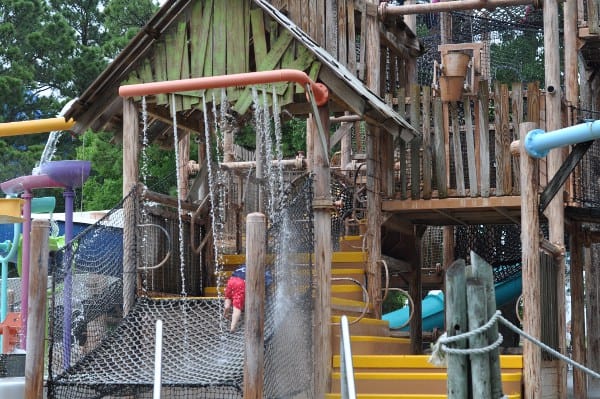 The only trouble with all the things to do was keeping all 3 of my kids in the same place. The activities are generally spit between "little kids", "above 42in", "above 48in" and "really big kids". Since my kids fit 3 of these categories, I was lucky to have had brought my dad along for the adventure. We spent the day trading kids and exploring everything at the park.
We went on a weekday, with rainy weather, so the crowds were small and we never had to wait longer than 5 minutes for a slide. Actually, for the big slides, we spent more time climbing to the top than waiting.
Up until this trip, we had not spent much time at water parks. In fact, we're not huge theme park people. But, at Wet'n'Wild, where we were constantly swimming and splashing, we had a great time.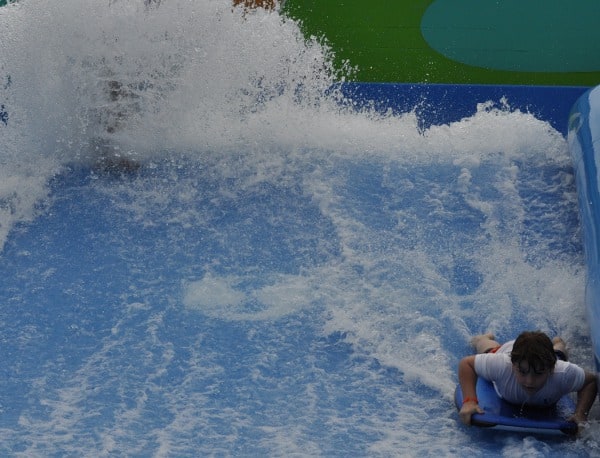 If you are thinking of a trip to Wet'n'Wild, here are our tips for taking the kids! Affiliate links included.
Lockers are available for $10-$20. I'm not sure how to get around renting the locker if everyone plans to swim and you have keys and a phone. Plus, I had my camera so I was planning on spending the money. The small locker will hold your keys, towel and change of clothes... and not a whole lot more. The jumbo held my camera, phone, sunscreen and clothes for 5 people... but it's not gigantic. The good thing is that you can open and close all day for one price... so store your sunscreen and water... swim... and come back for more.
Parking is $10. You can save a few quarters if you buy online.
Outside food is not allowed in the waterpark... BUT you can bring in water, infant formula and food for those with special needs. You can also leave a cooler in the car and re-enter the park.
Food inside the park has amusement park price tags. Most things are around $10, but it looks like you can find tacos, pretzels and popcorn for $3-$4. Bottles of water are $3.
Water shoes would be useful. We had flip flops... but a lot of the pools and slides are connected... so we left them at Wet 'n' Wild Junior and did not remember them until we were on the other side of the park. No big deal for dollar store flip flops... but water shoes would have let us wear shoes all over the park.
It turns out that going to a water park is a good way to unplug. With all the water, I locked away my phone and was offline all day. The only trouble was that I had no idea about the time. Next time I'll wear a waterproof watch. (I also saw lots of people with waterproof phone cases.)
Tubes are available for all the slides that require tubes. There are also tubes you can rent... but you can skip this expense (unless you are determined to float and not swim down the lazy river).
Life vests are available for free, all over the park. You can also bring in your own devices. My youngest wore his Puddle Jumper and my daughter wore her Life Vest (even though she can swim... but so her mom was less worried about watching 3 kids).
Strollers are allowed in the park. (But all the strollers I saw had one parent watching over them.)
Wet'n'Wild will stay open in the rain and they only close the attractions for lightning/severe weather. When we went, it was rainy, which kept the crowds away and only had to leave the water one time. If you want to gamble and go on a rainy day, you might also see fewer crowds... and who cares if you get wet at the water park? The catch is that NO rainchecks are issued... so if you spend a lot of money on tickets and then lighting closes the rides, you lose on the bet.
All of the attractions say that those with injuries, conditions or are pregnant should not ride.... but it seems like they let the patrons make the decisions. For me, the pregnant mom, I did the things that are less strenuous than my daily routine... but not those that were more dangerous. So, the lazy river is easier than getting 3 kids ready for school, so I floated down. The giant slide might be more dangerous than hauling kids to baseball practice, so I skipped it.
For us, a water park visit is a 2 adult adventure. There are activities for little kids, for those over 42", for those over 48" and for adults. Since I have a kid in the "little", 42" and 48" category, it was much easier having another adult to help haul around the big and little kids.
So, if you were wondering if Wet'n'Wild had something for your kids... the answer is probably yes. If you are wondering if it is worth the price, take a look at the pictures below and see what you think. We really did have fun and you can get discounts online, with coupons at McDonalds and with the season pass!