We went to a fun restaurant this week... Velvet Taco on Washington and Durham. We are always impressed by all the restaurants and bars on Washington Avenue that make this street so lively.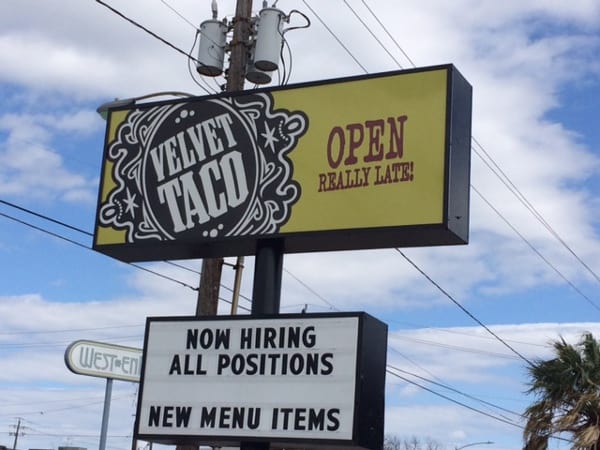 Velvet Taco has a cute building with a small patio in the front and a bigger covered one in the back. The dining room is very cool – as in the colors they used: bright yellow and pink touches.
The concrete floor, stainless steel counters and yellow pipes on the ceiling create a modern dining room. They have nice clean bathrooms and a lots of fun table options: counter height along the windows, small intimate ones and big familial ones.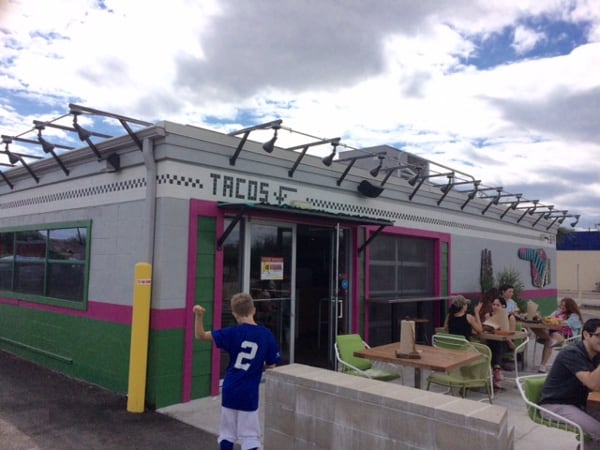 You order at the counter as you walk in.
They have really adventurous and eclectic tacos and you kind of want to try them all! Their kid menu is small but effective! They also offer rotisserie chicken if tacos are not for you.
Velvet Taco prides themselves in using only fresh ingredients, they make their own tortillas and recycle! Good food and feeling good about it, pretty cool right?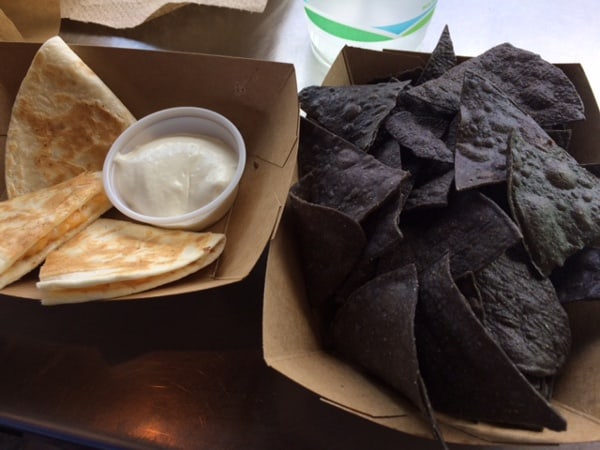 My son chose the cheese quesadilla and a basket of homemade purple chips. I have to say that the order is fine for younger children but if your child is really hungry, you might need to order 2. He ate everything and really really loved the chips. He did let us try them but was not too kind on sharing!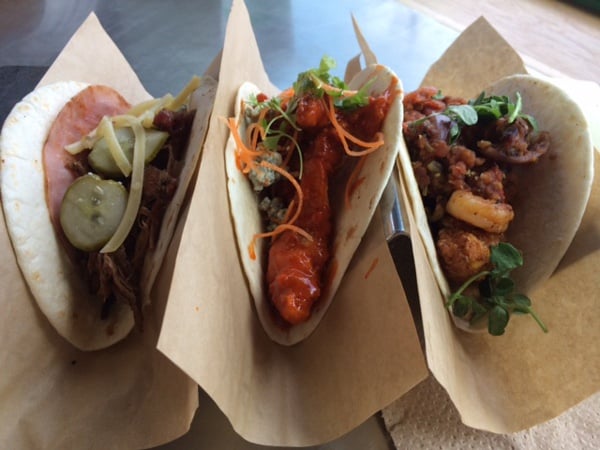 My husband picked 2 tacos: the Buffalo Chicken and the Cuban Pig. He loved the seasonings and the combinations of textures. They were both tasty and my husband really enjoyed both.
I chose the Shrimp and Grits Taco and it was delicious. It was spicy but not too much and the creamy grits completed perfectly the crispy shrimps.
We loved the casualness and easy going atmosphere at Velvet Taco. We might have brought the age average up by at least 10 years but they didn't mind!
There were other families with younger children as well as young couples and groups of friends, all sharing a beautiful moment. So, please try Velvet Taco where you are guaranteed delicious tacos, friendly staff and relaxed ambiance.
Velvet Taco:
Address:
4819 Washington Ave, Houston TX 77007