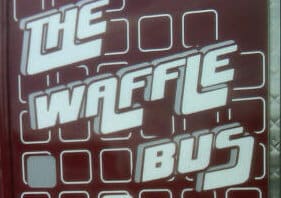 Address:  Check HERE. The bus is often at Buffalo Exchange and the Museum of Fine Arts Houston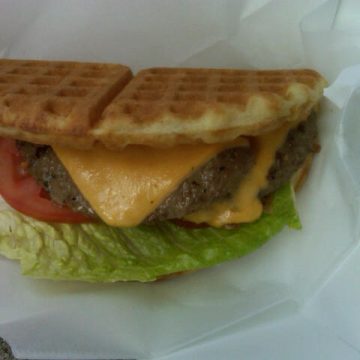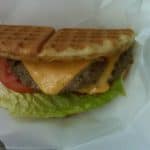 Our Review:  I'm a fan of food trucks. I like the adventure in hunting for the mobile restaurant. I had heard about The Waffle Bus and have been tracking it's location on the WEBSITE, Facebook and Twitter. Today my van was loaded with kids at lunch time and we found the truck at Buffalo Exchange in Montrose. I must have made a funny noise, because just as I saw it, my son asked why I said, "yesssssssss".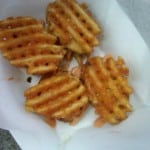 I explained that I said "yesssssss" because I was very excited about the lunch we were about to eat. We pulled into the lot, parked in back (but not in the part that says "don't park here or you will be towed") and walked around front. Here a very friendly young man took our order. We got Cheeseburger Fryders ($5), Waffle Burger ($7) and Strawberry Irish Cream Creme Brulee Waffle ($6). In about 5 minutes, our order was ready and we had a mini picnic on the shaded sidewalk of Buffalo Exchange.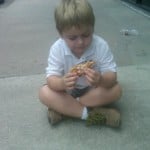 At first Joe was concerned that our waffles did not have syrup, but he quickly recovered and ate absolutely everything. It turns out that "Fryders" are 2 waffle fries with a mini cheeseburger inside. These were a hit with the kids. The waffle burger was mine, but I got very little of it. Joe gave me a few bites (which he fed to me like a baby because he did not want to give up control of the sandwich). It was a burger inside a waffle. I'm not sure who thought of these waffle ideas, but they were very good. The final item was the Creme Brulee Waffle. It was a waffle sandwich with strawberries and cream (and how can this be bad?).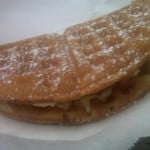 Overall it was a very good picnic lunch. The server was friendly, the bus was fun (with music videos playing on the flat screen TV) and the food was good. Next time we'll bring our own drinks (instead of buying them), but that's the only improvement we need to make. You can be sure I'll be muttering "I love waffles" each time I drive by.