No way we are going to an escape room. These are scary, not for kids and a little bit strange. Right?
Well, two things changed my mind. First, I met up with my cousins for the first time in years... and they were talking about how much fun they had at an ESCAPE ROOM. And days after this, That Escape Place invited us out to try their escape room!
That Escape Place assured me that their rooms were family friendly (with NO scary stories and NO zombies trying to get you...).
And friends, going to That Escape Place was one of the MOST FUN things we've done this summer.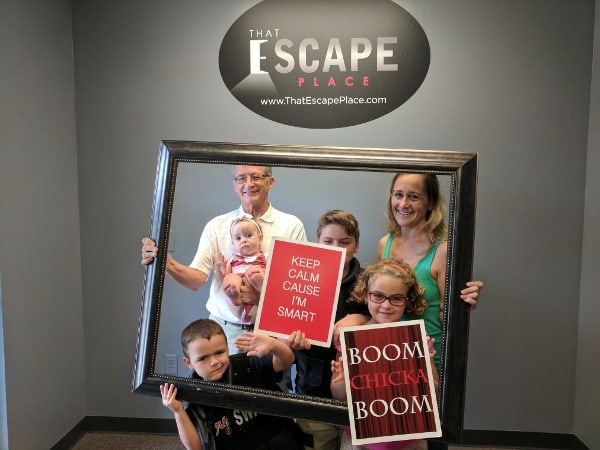 My kids really like secret agent books and MacGyver shows. So when we found out we were completing "Raiders of the Lost Art", a secret spy mission to find stolen art, we were very excited.
AND we COMPLETED THE MISSION with just 1:22 left and in dramatic fashion.
The hour in the room was intense, entertaining and required a whole lot of team work between siblings and problem solving.
We had a 10 year old, 8 year old, 5 year old, 10 month old, grandpa and me. The puzzles are challenging, but each of the kids were able to help solve them... and when we got stuck, we did get clues sent over from mission control. (We also had the chance to practice some puzzles in the lobby, so we had some idea what to do.)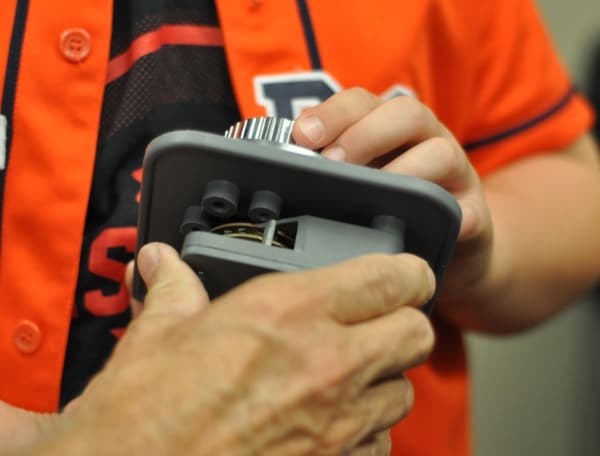 The staff tells me that we probably had the minimum number of adults and big kids to get through (because we were all solving puzzles simultaneously for an hour) but that both of their escape rooms are family friendly.
Not only was this fun for us, but it would be a great birthday party (according to my 10 year old) and a fun team building event (for kids sports teams or for corporate groups).
I couldn't take pictures in the room (because I'd give away too many clues!) but below are some security camera pictures of us searching for the stolen art. There was serious team work and problem solving going on... and there was no time for bickering between siblings!
If you have secret agents that like to solve problems, you should check out That Escape Place. We had a private room but there are also single tickets available.
AND for a limited time, you can solve this Morse code puzzle and find the discount code that will save you 30%! The code to solve is:

Solve it, find the code and enter it when you book your room!
Also, a couple more cost saving tips are... Thursday during the day is the slowest time. You *might* get a private room even if you just buy a few tickets. (It's not guaranteed... but it could happen!)  Also, That Escape Place offers a offers a military, police and fire discount.