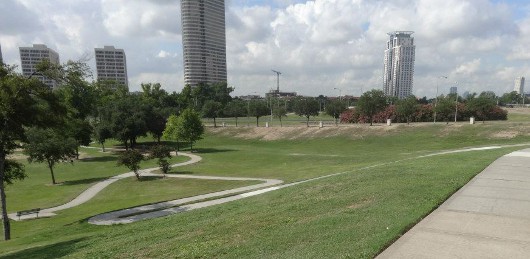 Spotts Park has…hills! Well, really it is more like a partial bowl, but the sides are nicely sloped. In mostly flat Houston this is reason enough to visit the
park
.
When we visited, the kids ran down the winding sidewalks and raced each other up the side of the hill. There is also a long stairway that they just had to try out.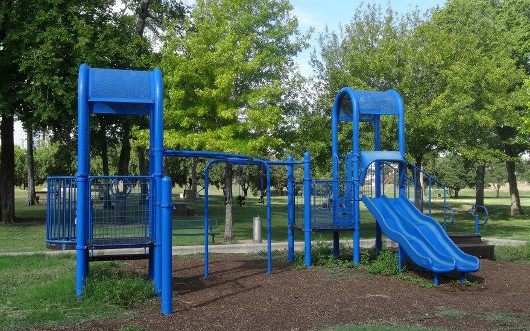 We weren't too impressed by the solitary playground structure at the bottom of Spotts Park. It only had monkey bars, a slide, and a couple of steering wheels.
There is a table nearby with permanent chess/checkers boards, but we didn't know to bring pieces to play with. (Next time!) The kids did enjoy the other play structure at the top of the hill more (even though it is designed for younger children) as well as the see-saw that was near it.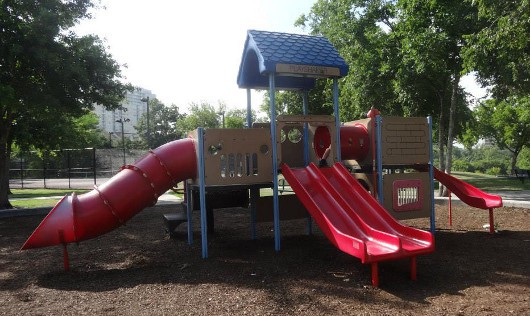 On the weekday morning that we went to Spotts Park were more adults exercising than kids playing at the park. This didn't really surprise me because although the playground was somewhat lacking the grown-ups seemed to be getting a good workout.
In addition to the slopes for running/walking, there is also a covered basketball court, tennis courts, sand volleyball courts, and fitness stations.
So, Spotts Park may not be the place to go for a great playground... but it is a fun place to get outside and to exercise!
Spotts Park:
Address:   401 S. Heights, Houston, Texas
View Larger Map