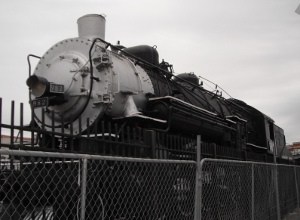 As the parent of a train-conductor-in-training, I've made it a point to see every train, model train, train expo and train movie in every place I've ever traveled. I was shocked when I looked at a map of Downtown Houston last week and discovered a train, right next to Discovery Green, that I had never seen before. The very next day I packed up the kids and headed out to see the old Southern Pacific Steam Engine 982.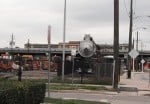 The steam engine is located right between the George R. Brown Convention Center and Minute Maid Park. I've been to the area a hundred times but never noticed this train. Once we arrived, I figured out why.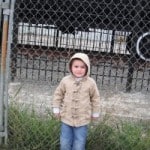 The train is hidden behind a huge truck ramp going in to the George R. Brown and is currently in a construction zone. The area between the park and convention center looks to be undergoing a major renovation (or revitalization) and the big equipment is parked next to the big steam engine.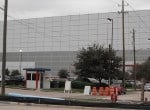 With this discovery, I quit being so hard on myself on missing Houston's very own steam engine, for 4 whole years, and got back to enjoying it with Conductor Joe. This engine was given to the Houston Jaycees and the City of Houston in 1957. It is a symbol of the city's seal and represents the importance of rail to Houston - "where 17 railroads meet the sea". Steam Engine 982 was built in 1919 and ran 3.5 million miles before being retired. For more history, go HERE.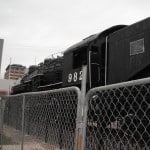 Joe noticed right away that, unlike Thomas the Tank Engine, this train used fuel oil instead of coal. He was impressed by the size and was sure that the fences should be taken down so he could drive it. According to the Houston Jaycee's website, there have been plans to light up the train at night, make the bell ring with a button on the fence and make the smoke stack smoke again. I think this would sufficiently satisfy my little conductor.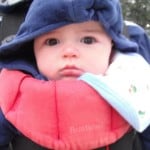 Next time you are downtown, swing by Southern Pacific Steam Engine 982. It's fun and free.
To get to the train, you can drive or take METRORail to the Preston Station (and walk about 5 blocks east). We did see a lot of available metered parking next to the train (and it is free all day Sunday and on all other days after 6:00pm). Do note that the train is on a busy street (Capital) and feels safe enough. There are fewer eyes watching the side street behind the train, when there is no game at Minute Maid, and it can be a little creepy.
Stick to the main drag and check out this little piece of Houston history!