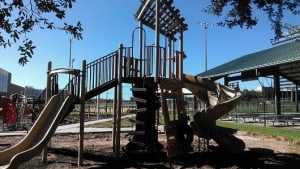 On Saturday, November 16, 2013, First Methodist Houston Westchase will be opening the new Quillian Center playground. I love the Noah's Ark Splash Pad at the Quillian Center so I am really excited to see the playground.
The activities will be from noon to 3:00pm with the official ribbon cutting at 1:00pm.
You will find face painting, inflatables, balloon characters and Kona Ice and, of course, the new playground!
The new playground features two large play features, one which resembles a tree house. The other feature is covered with a large shade structure to protect the children from the Texas sun. Both areas are built on top of synthetic grass which makes the features accessible to all.
The event is FREE and should be a lot of fun. If it's anything like the First Methodist Downtown's Touch-A-Truck event, my kids will never want to leave!