Why does it seem like kids always get sick after hours or on weekends, when the pediatrician's office is closed?
A fever, an earache, a swollen ankle. Life happens after hours, too.
And if you're a parent, you know the dilemma: Do I ride it out, hoping my child's condition will improve, or pack up and head to the nearest urgent care facility, hoping to be seen? Now Houston-area parents have another option...
Call the Free After-Hours Pediatric Nurse Line!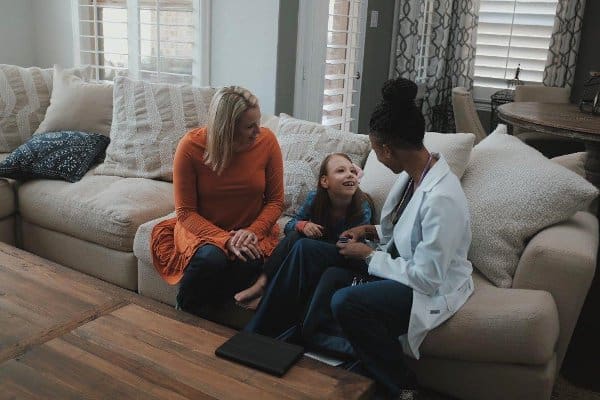 Our sponsor,
Children's Memorial Hermann
, in association with Q.care, is offering after-hours telephone access to a pediatric Q.care nurse practitioner who can answer questions about sick children and provide triage services over the phone.
The service is free for children ages 0 to 18 years of age.
It's available after hours and on weekends.
Download the App Today
Simply download the Q.care app to your Apple or Android phone and click, "Request a Call." Within minutes, you'll get a call from an experienced pediatric Q.care nurse practitioner who can help you determine what to do. The on-demand service is offered on weekday evenings, from 6-10 p.m., and on weekends, from 8 a.m. to 10 p.m.
Memorial Hermann, in association with Dallas-based Q.care, is the first major health system in the United States to offer this revolutionary digital tool aimed at connecting parents of sick children with skilled nurse practitioners when pediatrician offices are typically closed.
Coming Soon: After-Hours House Calls Across Greater Houston
The nurse triage service was first launched last fall by Children's Memorial Hermann in The Woodlands, along with an urgent care house call service. If the nurse determines a child should be seen by a provider, a nurse practitioner will arrange an immediate consultation at your home through the Q.care mobile app.
During the house call, the nurse practitioner can assess, diagnose, treat and, if needed, prescribe medication. The service is affordable to consumers and covered by most major insurance providers, including Blue Cross and Blue Shield of Texas, UnitedHealth, Aetna, Cigna and the Memorial Hermann Health Plan.
To make your child's healthcare as seamless as possible, your Q.care nurse practitioner will provide all the details about the home visit to your child's regular pediatrician, to keep him or her in the loop.
While the nurse triage service is now available for families across the Greater Houston area, the house call service is currently available only in The Woodlands and surrounding communities. Children's Memorial Hermann has plans to expand pediatric house calls to more locations later this year.
Parent Approved
Response to the new services has been overwhelmingly positive. Q.care's Facebook site has nearly 8,000 likes and hundreds of five-star reviews.
To learn more, visit childrens.memorialhermann.org/house-calls.