Address: 1001 Austin Street, Houston, TX 77010 and 12141 Westheimer Road, Houston, TX 77077
Cost: Reasonable
Appropriate Age: Any age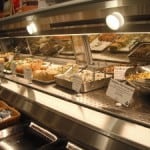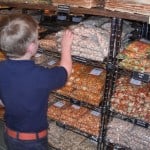 Phoenicia Specialty Foods is a food lover's grocery store that has surprisingly reasonable prices and food that can please any kid. The new location, across from Discovery Green, has been a favorite of ours for a pre-park bite. The store is located at street level of the One Park Place residential high rise, directly across from Discovery Green. The entrance is on Austin Street.
Phoenicia is full of freshly baked breads, ready to eat meals, imports, coffee and more. One of our favorite things to see is the pita bread conveyer belt bringing down hot pitas from the second floor. The store is small but you could spend a long time looking at all the colorful options on the simple shelves. At Phoenicia you can buy your goods to-go or enjoy them at the dining tables. You can also visit their coffee shop and MKT Bar.
Phoenicia has a parking garage and metered street parking. It is also a short walk from the Main Street Square stop if you take METRORail, which is our favorite way to travel. My kids and I have stopped in several times before heading to Discovery Green. Each time I hustle my kids back to the clean bathroom and then let them pick out our picnic lunch.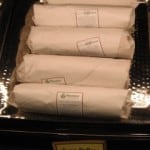 Last time we were in, we grabbed po-boys for $3.99 and headed to the movie at the park. We split the turkey and swiss po-boy and the pesto chicken po-boy. Both were good, but the pesto chicken was fantastic. The time before that we got curry chicken salad from the deli and a box of crackers and enjoyed it in the store. It was awesome. Next time we are in, we're getting humus and those hot pitas flying in from the second floor. And I'll get some tabbouleh. Oh, and salad and olives from the bar. And.... Lucky for me, there are a lot of events at Discovery Green and a lot of opportunities for me to get to Phoenicia Specialty Foods.
I've never considered myself a foodie. In fact, I've considered meal time to be a bit of a burden... and not worth the time (unless there were chocolate chip cookies).
That said, after spending some time in Phoenicia, I find myself ordering The Ultimate Food Lover's Guide to Houston, a Second Edition
. How'd that happen?