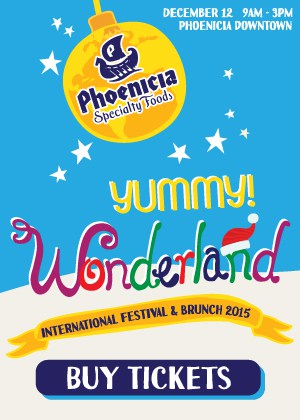 Celebrate the holidays in style… and for not a lot of money!
One of our favorite restaurants and sponsors is hosting the YUMMY! Wonderland International Holiday Festival & Brunch with Santa, on Saturday, December 12, 2015!
This celebration brings the best global holiday traditions to the Phoenicia's Downtown location. Guests will select brunch from an international menu, be entertained by performers, participate in hands-on craft centers including a flip book craft from Aurora Picture Show, embossed holiday cards with Houston Makerspace and cookie decorating.
Santa will make an appearance, speaking with children in French, Spanish and English, and photo opportunities will be available.
Also, if you bring a new, unwrapped toy to donate to the Houston Fire Department's Operation Stocking Stuffer, you will receive a complimentary hot chocolate.
The only trick is that you need to get a ticket before they sell out (and Phoenicia events usually sell out!).
The YUMMY! Wonderland festival and performances are free and open to the public. All-you-can-eat brunch tickets are $15 for adults and $8 for children (ages 4-12). Children 3 and under, free admission. Brunch, coffee and juice will be served from 9 a.m. - 3 p.m. and are included in the ticket price.
To purchase tickets go HERE!