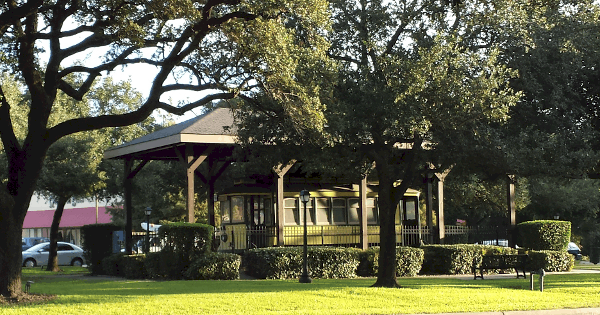 Address:
5000 Bellaire Blvd, Bellaire, Texas 77401
This week's park has no playground and is in the middle of a busy road. BUT, if you are like us and have mini train (trolley) fanatics in the family, you need to visit Paseo Park in Bellaire.
This park is in a wide strip of land in the middle of Bellaire Boulevard, just outside 610. There is a nice shaded trail and a historic trolley.
It won't take long to visit, but if your car sounds like mine, the back seat starts to yell, "choo choo!" as we approach on Bellaire Blvd. There is no onstreet parking on Bellaire Blvd, but there are many shops and restaurants near the trolley.
Visit one of the local restaurants, like Lemongrass, and run over to the train after your meal. If you are looking for a great playground park, Bellaire Town Square is very close and Firetruck Park is not too far down the road!