Natachees is kind of awesome.  It is not super cheap, and the portions were not super big, but is was my very first favorite restaurant in Houston.
(But know that a lot has changed since I first wrote this post! My favorite parking lot is now now a high rise building and the sandbox has been removed.  Natachees is still a good spot for patio dining and entertainment... it's just not quite as much fun for kids.)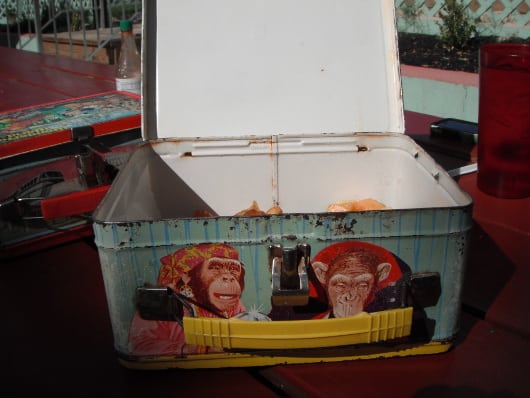 My kids and I first went to Natachee's on Friday at lunch. It is located right next to the Ensemble/HCC train station on Main Street. To get there, you can either take the METRORail (the most fun option) or drive and park. 
We like to take the train. There used to be an easy $2 parking lot, but now I need to investigate a new spot to park. (If you know, tell us!)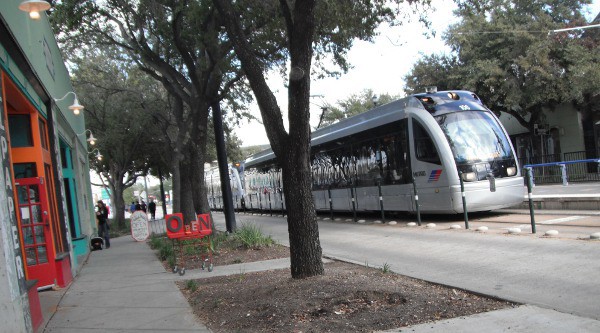 In the patio area there was a fenced in sandbox for the kids that is right next to the train. I'm not sure what could be better than a play area with real trains.
Actually, I do know. It's having a safe place for the kids to play while the parents can have a grown up meal and maybe some drinks.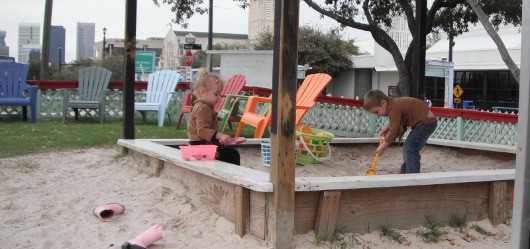 The kids got a lunch box with chicken strips, fries, fruit salad and a Popsicle for $6.00. This was extra cool because of the old fashioned lunch box it came in.
The sandbox is gone but the trains, patio and live entertainment remain.  Stop by when you are on Mid-Main.
Natachees:
Address: 3622 Main St, Houston, TX 77002