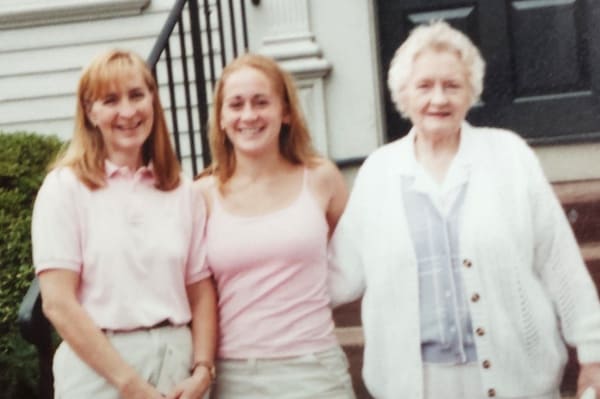 Me, My Mom and My Mom's Mom, Summer 2000
My mom is one of my most favorite people in the entire world.
When I was a kid, we lived in a small midwest town and my mom would drive me 2 hours, each way, to soccer practice every single week. I was a very good player, she saw my potential and committed to 4 years of that drive so I could play on the state team.
And it was not just soccer practice. She encouraged my brothers and me and committed her time over and over again. She drove to soccer practice, demanded we send in more college applications, sympathized when we did not get what we wanted and, against our protests, boasted to every single person in America when we accomplished our goals.
Mother's Day is quickly approaching, and now 15 years since I left home, I think it is very easy to take for granted all that my mom has done for me. As a mom myself, I know that Mother's Day can very easily become just another day to care for others.
But this year, I want to be deliberate about telling the world how great my mom is... so I will be entering our sponsor's #HungrysTopMom Mother's Day Giveaway. I will tell all my social media friends about my mom by sharing a post of what makes her amazing with #HungrysTopMom and by telling Hungry's about her HERE.
So, how does YOUR mother inspire you? What do you love about your mom? How has your mother shaped who you are?
Don't let Mother's Day pass you by and enter your mom by using #HungrysTopMom in social media and going to topmom.hungryscafe.com!
The winner will enjoy a 100-minute aromatherapy massage with unique blends rich in essential oils and aromatic extracts at the luxurious Trellis Spa inside The Houstonian Hotel valued at $300, a $150 gift card from Project Runway winner Chloe Dao to shop at her Chloe Dao Boutique in Rice Village, a $75 gift card to Lot 8 Salon to treat her tresses to a shampoo, cut and blow dry by Artistic Director, Christine Thai, a jewelry set valued at $250 from Kendra Scott and a Mommies and Margaritas Happy Hour from NEXTDOOR Bar & Lounge!
The giveaway will run April 18-May 8. Every week Hungry's will randomly choose one winner of a weekly prize and will announce each winner on social media.
Weekly prices include:
The Tipsy Dessert Bar - Private Ice Cream Mixology class for two, inspired by spring flavors valued at $100, a $50 gift card to Saint Cloud Boutique and a $25 gift card to Hungry's
WildBloom Boutique - $50 gift card and $50 in boutique prizes and a $25 gift card to Hungry's
Lily Rain - 2 gift cards valued at $100 each and a $25 gift card to Hungry's
On Mother's Day, May 8th, Hungry's will announce one Grand Prize winner!
Plus, every single mom can be celebrated with a free dessert on Mother's Day at Hungry's. Treat YOURSELF to a delicious Sunday Brunch (and free dessert) on Mother's Day at both Hungry's locations. Choose from delicious, hearty omelettes, signature Croissant French Toast and fresh-squeezed juice mimosas. Offer available at both Rice Village and Memorial locations.
Hungry's Memorial, 14714 Memorial Drive 281-493-1520
Hungry's Rice Village, 2356 Rice Blvd. 713-523-8652
Learn more about Hungry's and #HungrysTopMom by going HERE!