This. Is. MONSTER JAM™! It's time to fire up the engines again as the most action-packed motorsports experience for families in the world today roars back into Houston for two adrenaline-charged weekends at NRG Stadium on Saturday, January 29 followed by Saturday February 5 and Sunday February 6, 2022. Celebrating its 30th anniversary this year, Monster Jam features world-class athletes locked in intense competitions of speed and skill.
Jump to:
The popular Monster Jam Pit Party fan experience will return to Houston prior to each event, where fans can see the massive trucks up close, meet their favorite drivers and crews, take pictures and enjoy other family-friendly fun. This unique experience is the only place that allows people to get up close access to the Monster Jam teams and get an insider's look at how these trucks are built to stand up to the competition.
Houston motorsports fans will witness heated rivalries, high-flying stunts and fierce head-to-head battles for the Event Championship. Engineered to perfection, the 12,000-pound Monster Jam trucks push all limits going head-to-head for points in Freestyle, Skills, Donuts and Racing competitions.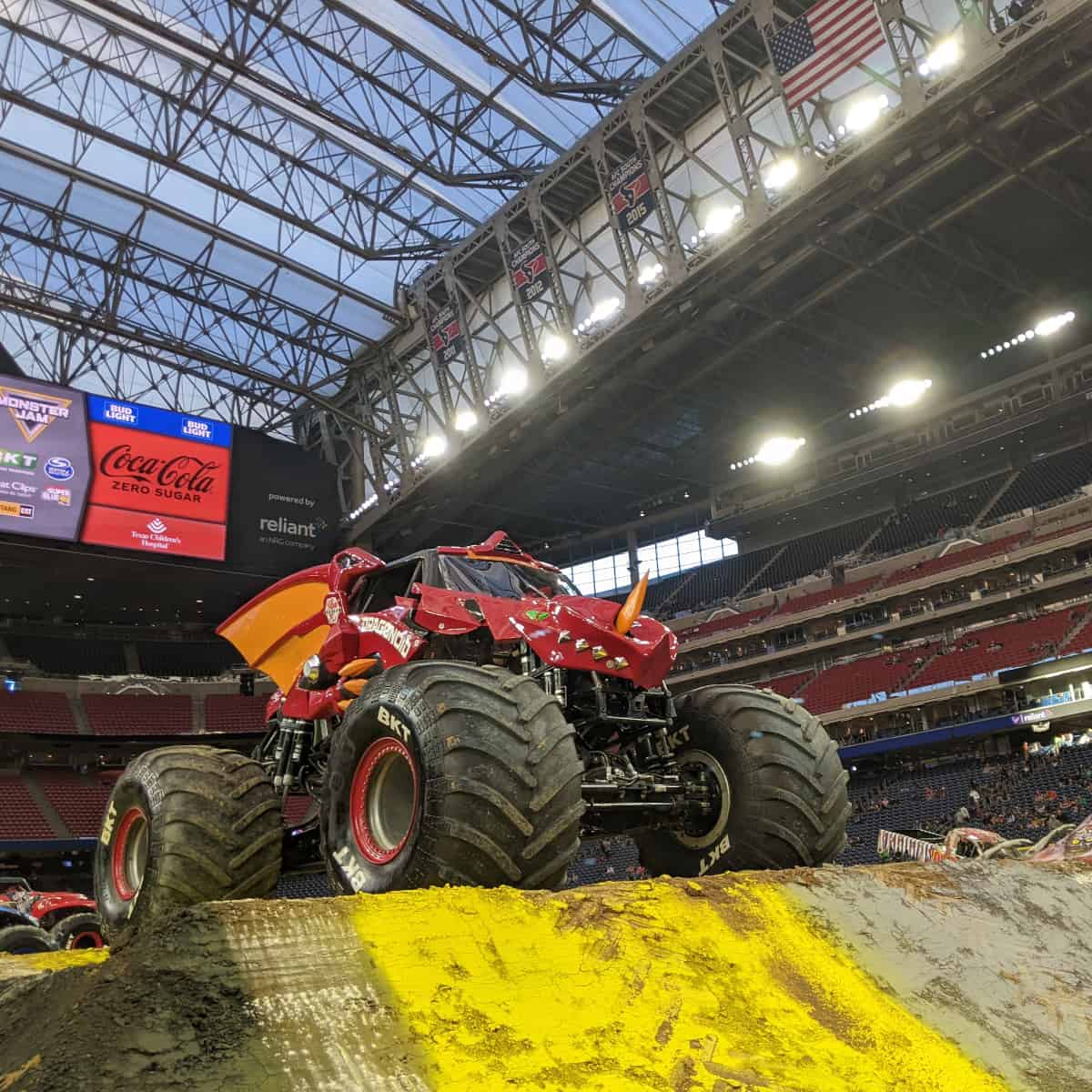 WHEN
Saturday, January 29, 2022

Event Time – 7:00 PM
Pit Party open from 2:30 PM–5:30 PM (Saturday ticket & Pit Pass required for entry)

Saturday, February 5, 2022

Event Time – 7:00 PM
Pit Party open from 2:30 PM–5:30 PM (Saturday ticket & Pit Pass required for entry)

Sunday, February 6, 2022

Event Time – 3:00 PM
Pit Party open from 11:30 AM–1:30 PM (Sunday ticket & Pit Pass required for entry)
WHERE
NRG Stadium – One NRG Park, Houston, TX 77054
TICKETS
Tickets and Pit Passes can be purchased online at Ticketmaster.com or in-person at the venue box office
TRUCK LINEUP
Grave Digger driven by Tyler Menninga
Zombie driven by Bari Musawwir
Monster Mutt driven by Charlie Pauken
Son-uva Digger driven by Ryan Anderson
Bakugan Dragonoid driven by Camden Murphy
Soldier Fortune driven by Kayla Blood
Megalodon driven by Cory Rummell
El Toro Loco driven by Kraig Champion
Avenger driven by Jim Koehler
Rod Ryan driven by Preston Perez; Vendetta driven by Mike Christensen
Jurassic Attack driven by Paul Jensen
THINGS TO KNOW
We went to the first Houston show... and here are a few things for you to know before you go.
Monster Jam is LOUD. Even outside the stadium you can hear the trucks. Bring ear protection for the kids and for yourself. Ear protection is for sale if you need it.
Purses are allowed inside NRG... but are searched when you enter.
Stollers are allowed inside the stadium. If you go to the Pit Party, you probably need a jog stroller. The dirt is very bumpy.
The concession stands are cashless... so you need a card or Apple/Android pay.
The Pit Party is 2-3 hours long (depending on the day). We only needed about 45 minutes at the party... but some kids might want to stay longer. You can talk to the drivers and see the trucks... but the drivers leave an hour before showtime.
The Monster Jam show includes about an hour of interviews and hype. For use, the show started at 6:00pm and the driving actually started around 7:00pm. At 8:30pm there was a little break before the freestyle.