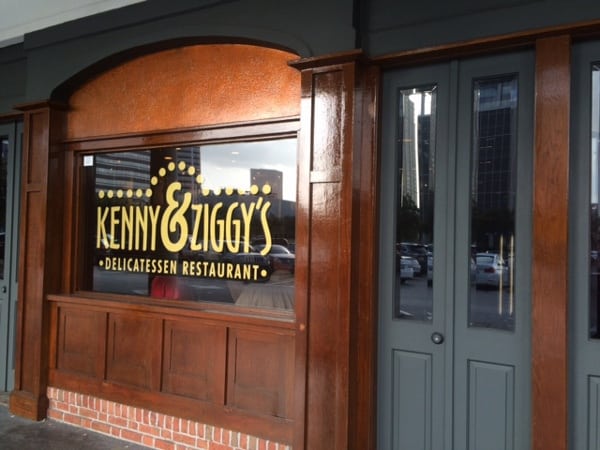 Location:
2327 Post Oak Boulevard, Houston, TX 77056
Age Appropriate:
All ages
Price:
$$
Hi, I'm Juliette! My husband, my 7-year-old and I love going out to eat and we are sharing our restaurant finds with you.
I am quite excited about today's review because I felt like I was in New York if only for a dinner…where you might ask? Kenny & Ziggy's New York Delicatessen on Post Oak Blvd. My husband had been there for lunch several times already but I had never been.
It is an authentic New York deli created by Ziggy Gruber, he brings his family history in the deli world in Houston. He is such a character that a documentary about him came out earlier this year! This is what made me want to try Kenny and Ziggy!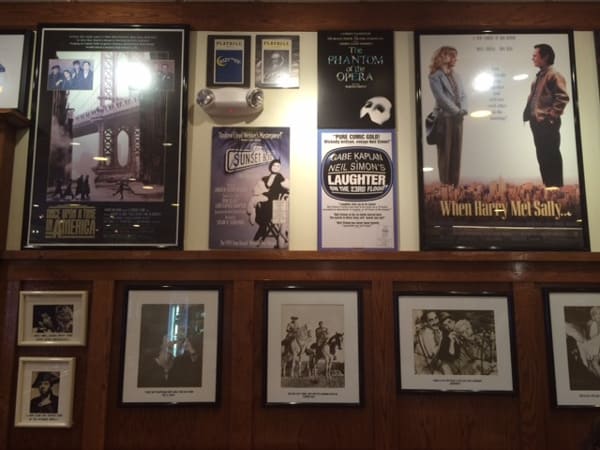 I immediately liked the décor and casual and friendly atmosphere. The walls are covered with playbills, movie posters, caricatures, quotes… Wherever you will sit, you will be entertained! The long dining room as a lot of booths and tables and I have to say that it was crowded with families, small and big. The left side of the dining room has a deli counter where you can order take-out. Their bathrooms are very family friendly and clean.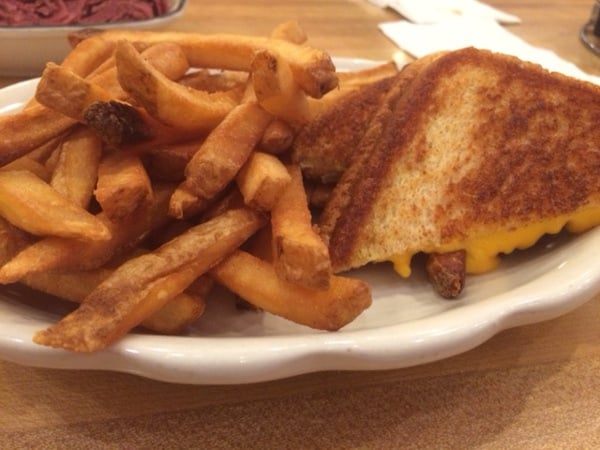 Once you sit and are done looking at the wall, the menu is another surprise. Puns abound and you will want to read it in its entirety. The children menu has humor too and my son enjoyed deciding between the funny names; he chose the "say cheese please" sandwich that came served with fries.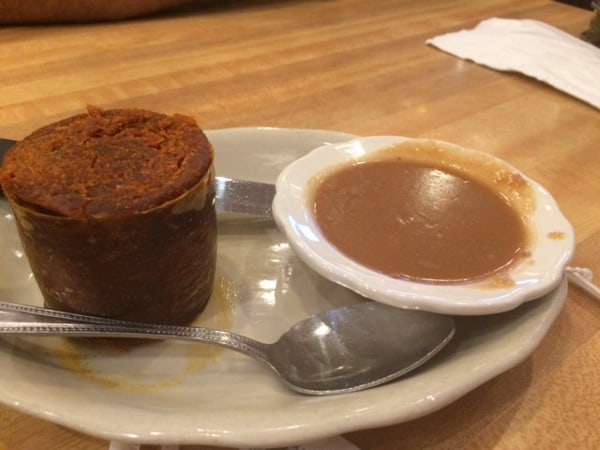 My husband told us we had to try the Kishka as an appetizer. We love trying new food and it was a first for my son and me. It is a kind of cold sausage bread pudding served with a gravy – not the most picture perfect food! But it didn't matter because very soon there was none left. We all loved it and found it slightly addictive, my son was not too excited at first and then kept saying he loved the Kishka!!!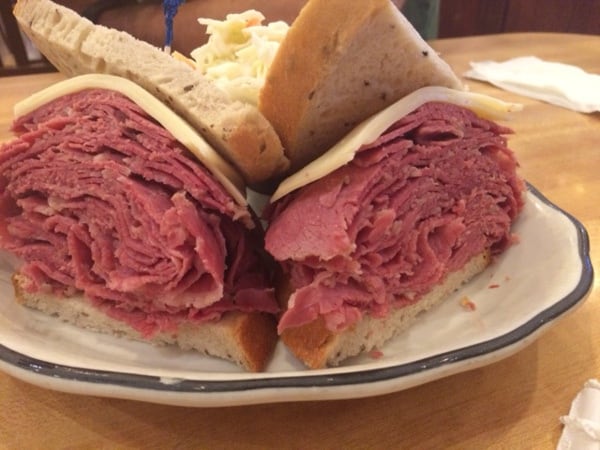 My husband chose the Corned Beef Sandwich, he raved about it every time he had it for lunch. This one didn't disappoint him and the cole slaw that came with it was a good lighter side! I chose the Brooklyn Style Patty Melt, burger grilled to your liking with cheese and sauteed onions on grilled rye. I order sweet potato fries and cole slaw as sides.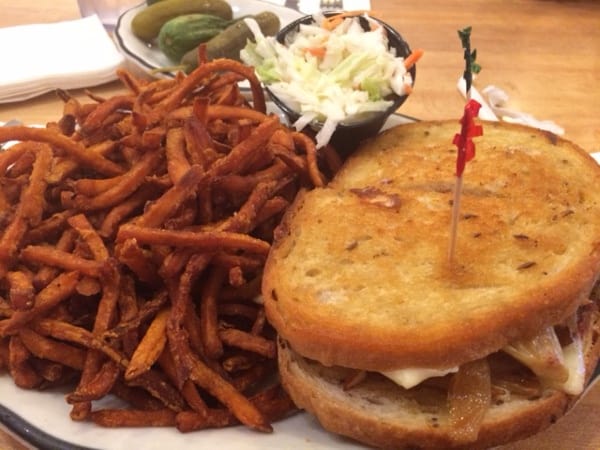 As you can see from the pictures, the size of the sandwiches is huge! I didn't even attempt to eat my whole burger. It was really good and I liked the rye bread that gave a new twist to the sandwich.
We all enjoyed our dinner and could not even contemplate the idea of dessert… even if delicious cakes were spinning on display ready to be eaten! As they say on their menu: Life is unpredictable, eat dessert first! We should have listened to them!!! I forgot to mention that they serve breakfast all day, as well as dinner plates and soups and salads. There is something for everyone at Kenny and Ziggy.
I hope that you will enjoy this New York deli as much as we did!
See you next week for another culinary adventure!