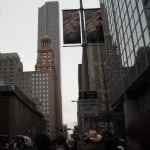 Did you see the Houston Rodeo Parade yesterday? The kids and I went and here are our tips for next year!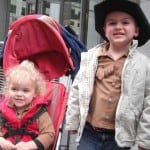 This year, the parade started at 10:00 and you can see the route HERE. Just after 10:00, we arrived at the all day parking lot at Main Street and Berry (next to Natachee's). Here we paid $3.00 and ran over to the Ensemble/HCC METRORail stop. (Free 3 hour parking is available at Hermann Park, but it can get very busy.)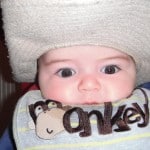 The METRORail station was pretty crowded, and when the train arrived, it was very very crowded. We ride METRORail a lot, but this was the most riders we had ever seen. We were able to squeeze our way onto the train and take it the 4 short stops to Main Street Square.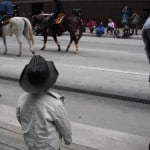 We started to walk north along the parade route, but quickly learned that the parade was the most crowded near the start of the route. We instead headed south from the METRORail station and were able to quickly find curb side seats. Also, if we had been able to get across, the side away from the METRORail tracks had a lot more room. (If you drive, be sure to park on this side of the route so you can get the best seat.)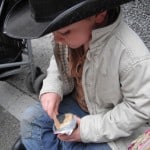 The kids were excited to actually see the parade (unlike the Thanksgiving Parade which was really really crowded). Joe could hardly believe that he saw police men on horses, old firetrucks and military men in a parade. But probably the highlights were when the kids  got their own American flags to wave and when one of the ladies on horseback yelled out, "Hey Cowboy and Cowgirl!".
Along the parade route we were able to buy $10 carnival ticket packs. At least one smart girl scout was selling cookies. And, our favorite was the Sabra folks giving away free samples of hummus.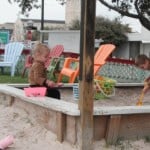 After about 30 minutes, my kids were ready to go, so we headed back to METRORail. Many of the downtown restaurants opened at 12:00 (instead of 11:00), so we took METRORail back to Ensemble/HCC and went to our favorite Natachee's for lunch.
It was a fun little outing that we'll be sure to repeat next year!