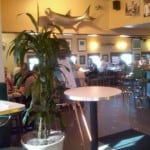 Address: 2621 Westpark Drive, Houston, Texas 77098 (and also, 10211 Katy Freeway)
Our Review:  Goode Company Seafood is located right behind Chick-fil-a on Westpark Drive. As such, we have driven by it about 9,000 times. The train car, which is part of the restaurant, has always gotten our attention. However, with the restaurant always being so busy, I was not sure it was the best place to take my kids.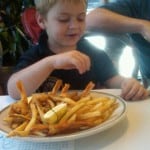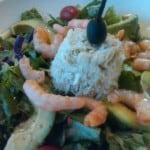 Lucky for me, last Saturday we were invited to Goode Company Seafood by friends, and I was happy to have the excuse to check out the train restaurant. Although the prices are not cheap, like many kid restaurants, the atmosphere inside is certainly kid friendly.
We arrived at 5:30 on a Saturday and were able to find parking and a table. (By 7:30, the lot was full and the wait was about 20 minutes.)  Inside we found a diner style restaurant that was just noisy enough to cover the squeaks of my kids.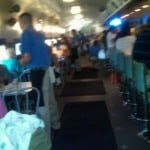 The layout of the restaurant is a little funny, with the doors leading into one dining area, with the bar and waiting area in the middle, and train on the far side. I assume this is because they have a train hanging off their restaurant and I think they made a wise choice when it came to layout vs. real-life-train-car-attached-to-the-building.
The train car section is drywall-ed, but you can still see the round roof, low ceiling and mini train car windows. This was the perfect dining room for my train loving kids.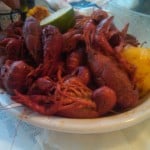 Once seated, we ordered a bunch of food to share. This included 2lb of Crawfish ($14.95), Shrimp and Crab Salad ($16.50), Crawfish Etouffee ($19.95) and Kid's Meal Shrimp ($6.95). Amazingly, a whole table full of food came out in under 10 minutes. My kids, having been born in Texas, must naturally like crawfish. Each time it has been in season, they've insisted on a bucket. They claimed that it was good (but I really prefer that my food does not look at me). I did try the salad and the etouffee. They were both really good. I recommend them both, but next time I go, I'm getting the Compchana.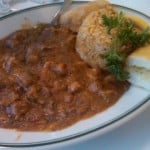 Someone else at my table ordered the Compechana De Mariscos with Crab or Shrimp ($13.95). It is a cold salsa like concoctions in a sundae glass, served with chips. It looked fantastic.
The staff at Good Company was very attentive and forgiving of the chaos that comes with large groups and little kids. There are high chairs, kids menus, crayons and a train. The price was a little high, but did I mention that there is a train?