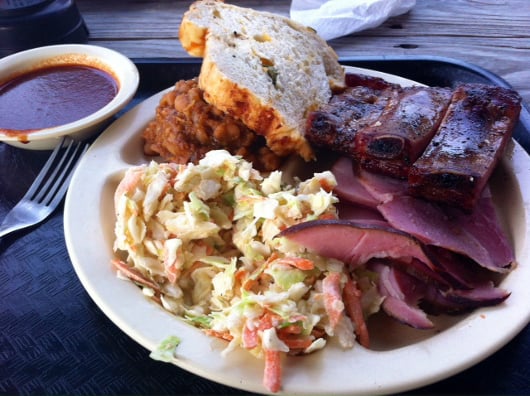 Address:
 5109 Kirby Drive, Houston, Texas
Cost:
$-$$
Appropriate Age:
All Ages
Hi I'm Juliette! My husband, my 6-year-old son, and I love going out to eat and we are sharing our restaurant finds with you each week!
Goode Company BBQ was our choice this week. If you drive on Kirby you can't miss it... it's across from the huge armadillo statue! Of course we have taken our pictures with it on the way to the restaurant! It's part of the adventure.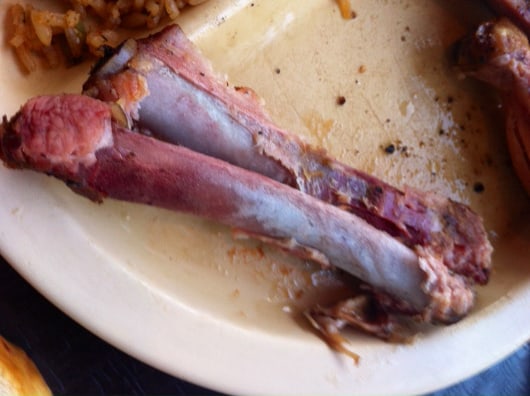 I like this place because you get to eat outside on wooden picnic tables and it feels very convivial and casual. I like the idea that you can share your table with other diners, it has an old-fashioned quality to it. They have set up some speakers outside that play bird noises in order to chase away those pesky pigeons or grackles that can ruin your dinner. The noises were a bit surprising at first but we got used to them very quickly.
The inside of the restaurant is very  unique. It's walls are covered with Texas memorabilia that the kids will enjoy looking at while you wait to order cafeteria style. You see your meat being cut right in front of you ( ah, the open kitchen I love!) and you pick your sides too. The bathrooms are outside in the back of the building and they are clean and include a changing table.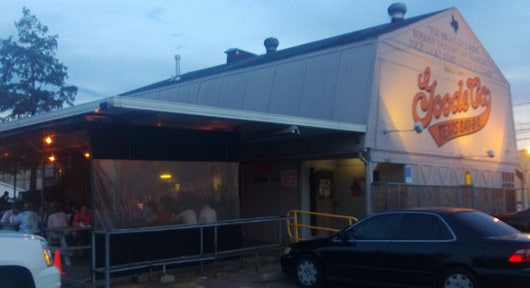 What did we eat? Ah, this place will always have a soft spot in my heart because I was craving meat when I was pregnant  and they have the best BBQ meat in town. A thought for our vegetarian friends, they have great side dishes that will let you enjoy the experience too. They even have a gluten free menu!
But we felt  very carnivorous so that night we ordered the two meat platter ($12.50) for the adults and one meat ($11.25) for our son. He picked the ribs and as you can see he licked the bones clean! Their jalapeño bread is moist and delicious. We had beans and rice and cole slaw as sides.
The children in our group were happy to be outside and not to have to worry about dirty fingers or keeping a low voice!
So if you want to enjoy a casual Texan barbecue dinner where you almost think you are in the countryside (bird calls included) please think of Goode Company Barbecue.
See you next week for a new culinary adventure!