Fogo de Chao (pho go de chao)!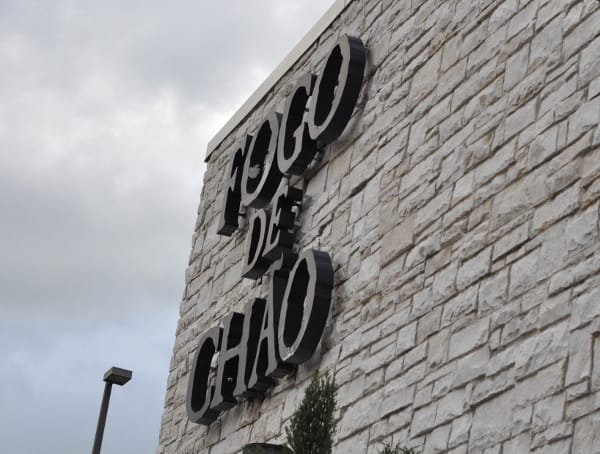 Starting fifteen years ago, my husband and I would go on dates to the Brazilian steak house in Downtown San Diego. We did not go every week, but when there was a big event, we'd have the very best dinner.
Steak comes out on giant swords and is sliced at your table, the market (salad) bar is full of delicious vegetables and the staff is so attentive you feel like rock stars.
But then we had kids. I didn't want to pay for kids that may or may not eat anything... so we put our Brazilian steakhouse dinners on hold for the last 10 years.
And apparently I was missing out for no good reason.
We were invited out to Fogo de Chão in Houston... and I said, "Maybe in 10 more years."... but they told me that the restaurant is family friendly AND that children 6 and under are always complimentary and kids 7 to 12 are always half price!
Do you know how many great dinners I've missed in the last 10 years... and many of which all my kids would have been completely free?!
And let me tell you... when we arrived at 7:00pm on a weekday, the place was full of families. There were more families and extended families than tables with adults only.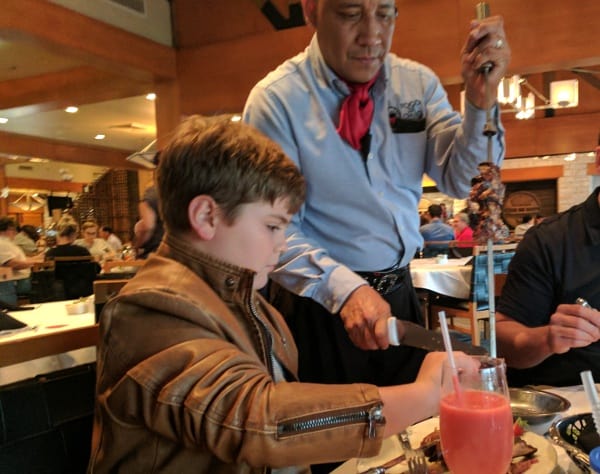 We were seated very quickly, were warmly greeted by our server and were soon enjoying an amazing dinner. At 
Fogo de Chão
 , you can visit the Market Table for salads and then have steak, chicken and pork cut at your table.
You just have a card that you flip to green and the servers start coming by with different selections. If it's not cooked to your liking, they will run and get what you need.
Not only this but they bring over cheesy rolls, mashed potatoes, caramelized bananas and polenta to the table... and keep on refilling it all dinner long. There was no fighting over the last roll or banana... the kids had all they wanted!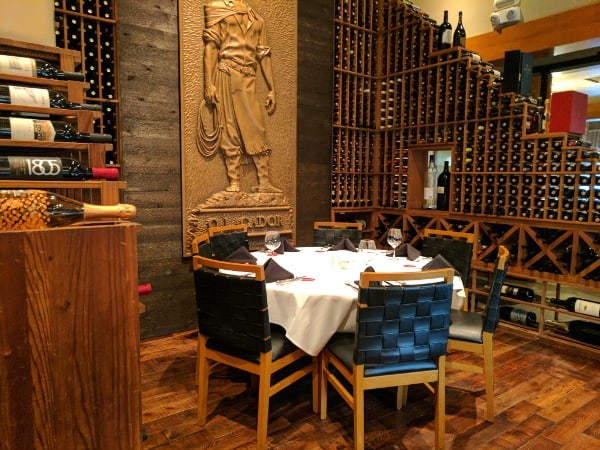 My big kids ate salad and steak and rolls and potatoes and everything, my 5 year old ate rice and veggies and my baby sat in the highchair and teethed cucumbers like a champ.
And on this very rare occasion, all of my kids said they were full at the end of the meal. This does not happen very often with my eaters.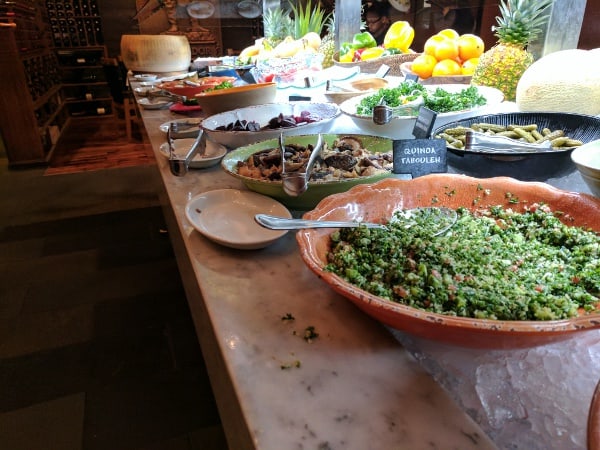 Of course, I need to mention that
Fogo de Chão
 is not an every night kind of place... but for celebrations and special events, it's now a place where we can take the entire family.
It seems like everyone else at the restaurant already knew this. There was a birthday dinner, a little family reunion with 20 people and groups that were dressed up for a celebration. You can get the hours and prices HERE.
See more pictures below!  (BTW, I get lots of searches for "pho go de chao"... so I should have known this was family friendly!)
Fogo de Chao:
Address: 8250 Westheimer Rd, Houston, TX 77063