Address:
1500 McKinney Street, Houston, TX 77010
Cost: Free
Appropriate Age: Children under 12
Our Review: Discovery Green is a 12-acre park located across the street from the George R. Brown Convention Center in downtown Houston. You can park at the metered street parking, paid parking garage or lots, or take the METRORail.
I took my 4 year old on the train, because it's our favorite way to get downtown. From the Main Street Square station, you just walk east about 5 blocks. Discovery Green is just before the convention center, so it is easy to find.
I took just him because we intended on going ice skating at Discovery Green, and I didn't think it would go well with a baby strapped to my chest. As it turned out, I should have checked the hours before we left, because the rink was closed.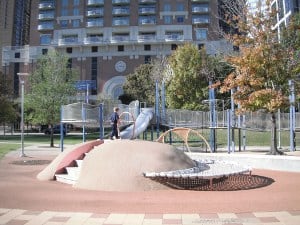 Lucky for me, Discovery Green has a lot to offer and my son was not worried about finding some fun. We went over to the John P. McGovern Playground that is carved into a hill at the corner of the park. The area is very well done with trees, plants and a playground theme of the major migratory flyway for birds that pass over Houston.
My son loved playing on all of it, but was most excited about the "zip line". He spent quite a long time zipping back and forth.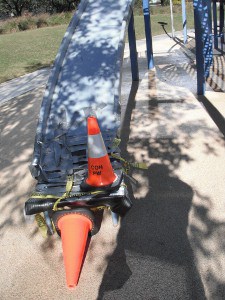 We certainly plan to go back, but I was surprised by all the damage on the playground. One slide was closed off and many other areas seemed to have sharp edges duct taped off. I spoke to the staff and the playground materials have not held up as advertised. There is a plan to redo the playground rather than keep repairing the same areas.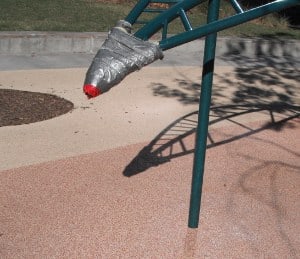 After I was done playing (because Joe could have spent an afternoon there), we walked back to the train station. To warm up, we stopped at The Shops at Houston Center for lunch. There is a huge food court here, filled with the office crowd.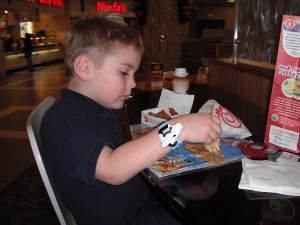 Joe got Chick-Fil-A and we finished up our date. It was a successful outing… even though I screwed up the ice skating! Good thing Discovery Green has so much to offer.