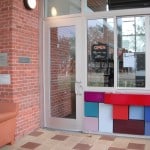 Discovery Green is one of our favorite Houston hang outs. There is plenty of green space, a playground and tons of free family events. Right in the middle of the park is the Houston Public Library Express. This is a small public library where you can check out books, spend the day reading, or borrow a wifi connected laptop. If you have your own device, you can enjoy free wifi throughout the park. Just like all Houston Public Libraries, books checked out here can be returned to any Houston Library Branch.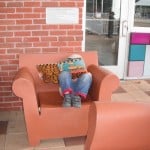 The selection is not huge, but there is enough to keep my kids entertained. Once a book is selected, Joe loves to sit in the huge chairs outside of the library in the reading room. Last time we picked up a construction book and enjoyed reading it at the park.
HPL Express also provides free use of recreational equipment, with valid ID.
Library hours are limited to Friday - Sunday - noon to 5:00 p.m. Still, go check out the reading room next weekend. It's free, fun and in the middle of our favorite downtown park.