Cy-Champ Park is a cool park in the Champions neighborhood in north Houston. It is a long skinny patch of land the runs along Cutten.
Under the tall trees is a 1.5 mile running path, picnic tables, playground and Fallen Solders Memorial.  Learn all about this park HERE.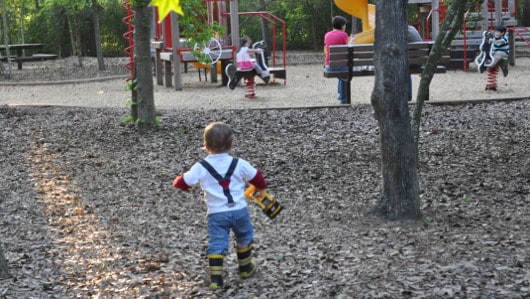 When we first moved to Houston, we had an apartment just across the street from this park. Back then it was just a strip of unused land. When I visited this week, it was the most popular strip of land in Champions.
At 7:00pm on a week night, this park was full of runners and families. I would usually be a little concerned with the (lack of) visibility due to the trees, but this park was so busy that we had at least 50 pairs of eyes watching over us.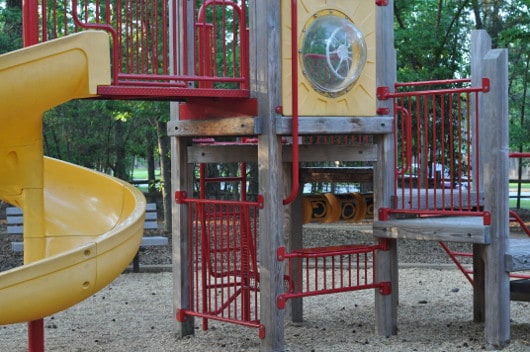 At Cy-Champ Park, we found a spot in the parking lot (and it looks like there is an overflow lot as well) and walked the short distance to the playground. (I did not notice a bathroom, so plan ahead!)
The playground has two small play structures, swings and spring riders. My two year old ran, climbed and asked for under-dogs on the swing.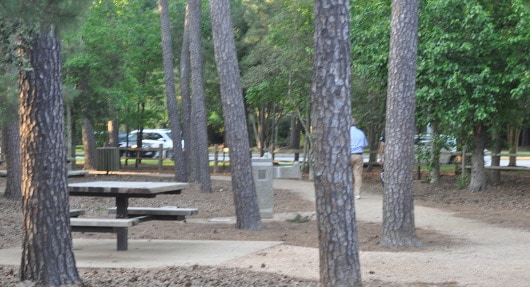 Cy-Champ Park is great for Houston because of the much needed shade. The playground and trails are covered in trees (and water fountains). I suspect you will need to bring your bug spray when the mosquitoes return this summer.
At the other side of the trail is the Fallen Warriors Memorial. Here there is a second parking lot that is just for the memorial.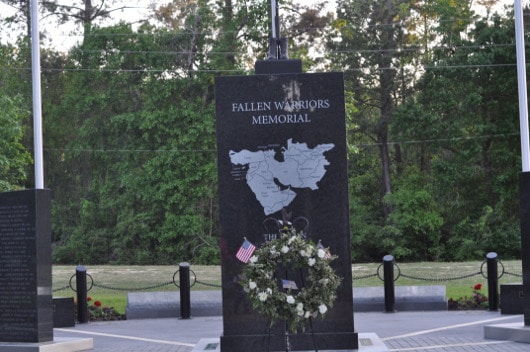 This monument was beautifully design and is very well maintained. The flowers are fresh with not a weed around. Despite the busy road next door, the memorial is peaceful with just flags whipping in the breeze.
It was sobering to walk through and see the names of fallen solders that were sons and fathers and so young. This memorial is for dedicated to those from Texas who have given their lives defending the United States of America in Iraq (Operation Iraqi Freedom & Operation New Dawn) and in Afghanistan (Operation Enduring Freedom).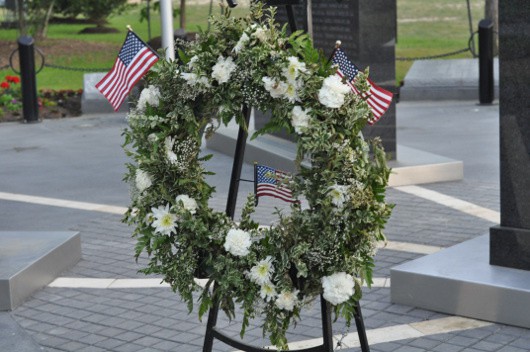 Definitely visit this monument, the trail and the playground. I wish it had been there when I lived next door!
Cy-Champ Park:
Address: 14619 Cutten Rd, Houston, TX 77069