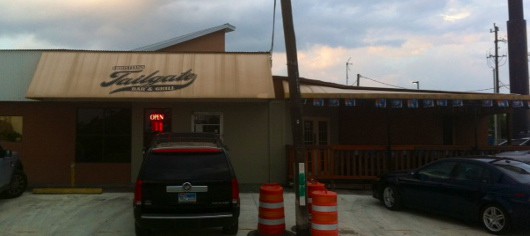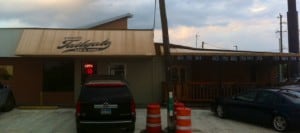 Update: Washington Ave now closed.
Address:  7340 Washington Ave, Houston TX 77007 (Also at 2820 White Oak, Houston, TX 77007 & 2000 Bagby St. Suite 106, Houston, TX 77002)
Cost:  $
Appropriate Age:  All Ages!
Hi, my name is Juliette! My husband, my son, almost 6, and I love going out to eat and we are sharing our restaurants finds with you.
This week we went to Christian's Tailgate because my husband thinks they have the best hamburgers. There are multiple locations, but we visited the original on Washington.
It's hard to describe the place because the outside looks very nondescript and plain. One local told us that it used to be a general store on the main route out of town to Katy and Brenham back in the 30s, 40s and 50s before they built I-10.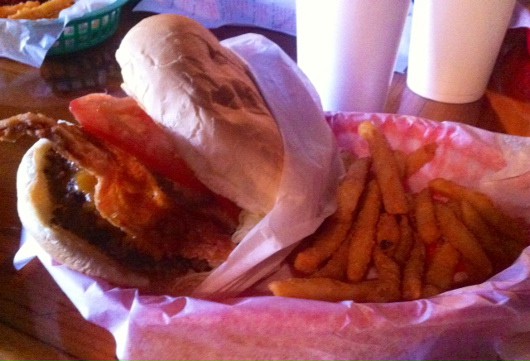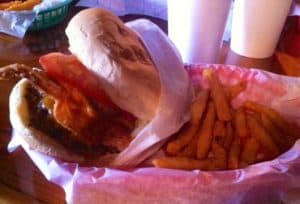 The same family still owns the building, and the feel of it is extra casual and authentic. They have a small porch and the inside has lots of nice tables and a big shuffle board for the kids to play. The only downside is their bathroom. It goes with the style of the restaurant and is not great for kids. That said, we were a party of 6 adults and 6 kids and there were two other groups of families with small children. I think that parents forget the bathroom and concentrate on the hamburgers! Also their kids menu is unbeatable: $1.99 for a full size hot dog, fries and a drink.
Ah, the hamburgers! Christian's Tailgate's award winning burgers are delicious and very satisfying. They can be ⅓ pound to 1 pound. The bacon one was a winner with our group. Yes, it has bacon on top plus bacon in the meat... and if that is not enough, try the fried bacon burger.
As the kids ate and played a serious game of shuffle board, we enjoyed every bite of our dinner.
So if you want to try something different, a bit of history and a relaxed atmosphere, Christian's Tailgate, the original, is your place!
Jill will write next week's review while we are on vacation, but we will be back for more culinary adventures in time for the new school year!