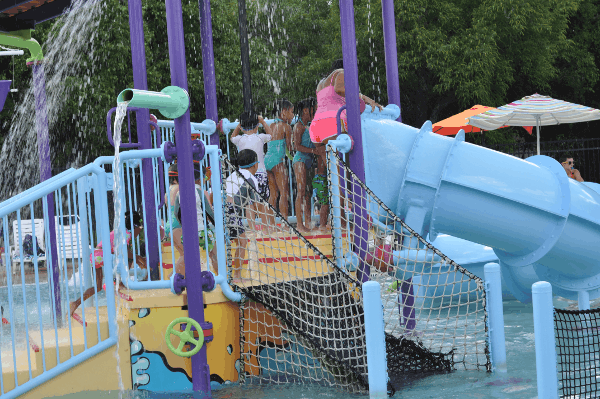 Address:
7001 Fifth Street, Bellaire, Texas 77401
Cost:  PRICES HAVE GONE UP A LOT (starting 2016). See them HERE.
Memberships Available
Bellaire Town Square Family Aquatic Center is some pool! It has a beach entry, giant shallow half of the pool, giant deep end of the pool, 3 slides, 2 diving boards, rock waterfall and lots and lots of fountains, buckets and games.  Its like my favorite Noah's Ark, but much bigger and closer to downtown!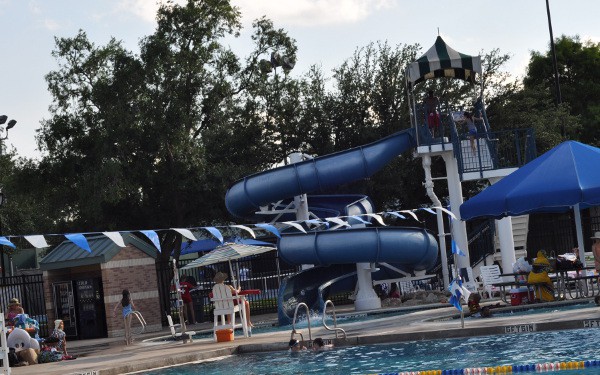 This pool is open to Bellaire residents and non-residents, 7 days a week, all summer long. Right next door is the
Bellaire Town Square Park
which has really challenging equipment for the bigger kids, and is also toddler friendly. You could send a day here and not be bored for a minute.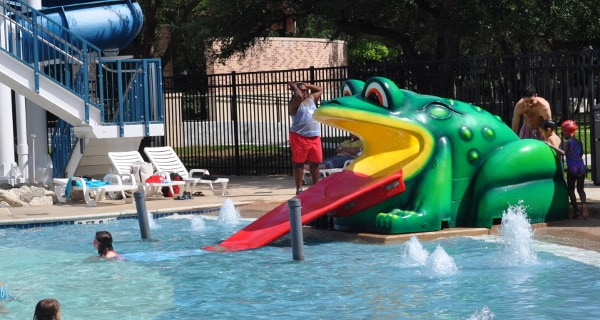 There is an admission fee for the pool, which is higher for non-residents, but parking is free. Bellaire Town Square is in a beautiful neighborhood and easy to find from 610. Outside food is allowed poolside and a snow cone truck and vending machines are available. Clean (but wet) dressing rooms are onsite and have changing tables.
We visited for a party and my kids nearly fell over when they saw the pool. It's not just a pool, it's a water playground! In the shallow end, where water goes from 0 to 3.5 feet deep, there are fountains and buckets everywhere. Once the buckets fill up, they dump all over the kids in the pool.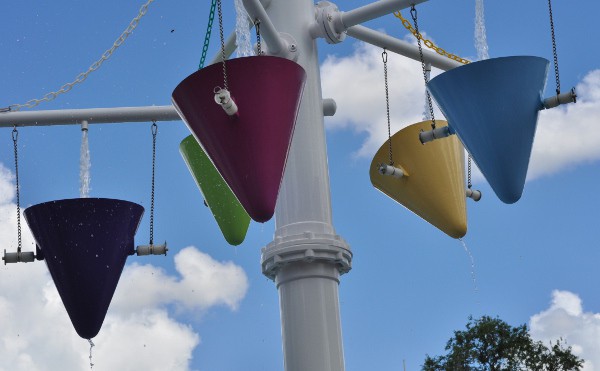 There is also a Frog slide that is perfect for the littlest kids and a slightly bigger tube slide. To get to the tube slide you have to walk up stairs, or climb the rope ladder, while getting soaked by jets.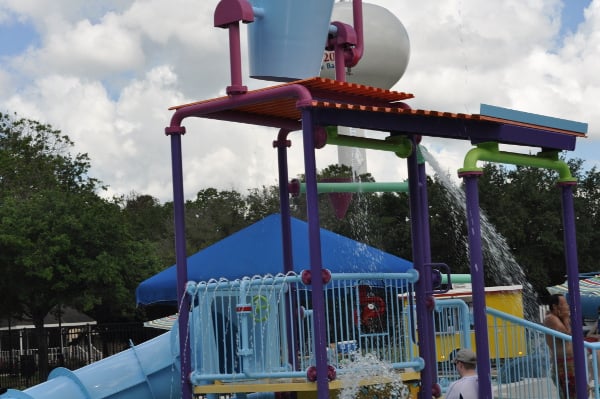 Bigger kids can climb to the top of the big slide and twist and turn down to the pool. The bravest of these kids can also go to the deep end and jump off the tall (or short) diving board.
In between the deep and shallow ends, you can find lap lanes and a big rock waterfall.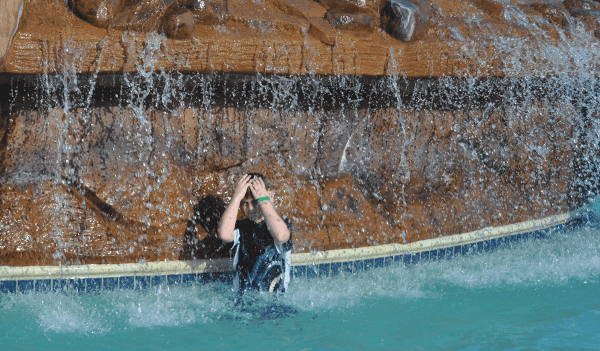 This pool is really perfect for families. My 6 year old strong swimmer was able to be adventurous while I watched from the shallow end (and the many lifeguards watched from closer). My 5 year old girl went up and down the tube slide approximately 500 times while my 2 year old bopped around.
I followed the 2 year old around, just in case he lost his footing. He could reach the bottom of the pool but couldn't necessarily right himself if he fell over.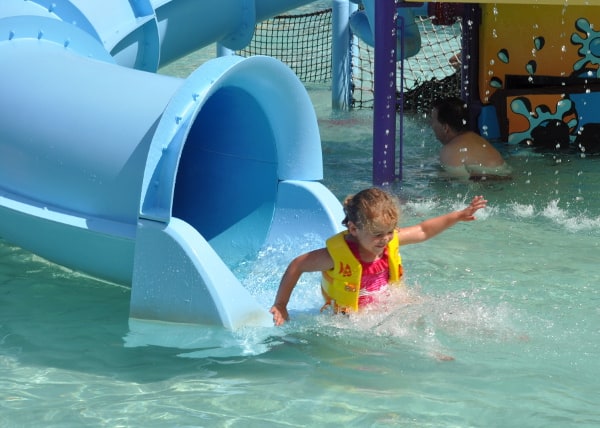 I had managed to arrive to the pool party in blue jeans, which is what not to wear to a wading pool. My baby was not at all interested in staying right on the beach entry, so I found some emergency clothes.
You may have seen me... I was the mom in the boy's swim trunks and t-shirt, chasing the baby that did not want to get out of the pool to go home (even after hours of playing). I tried for a while to stay dry, but kept finding myself under buckets that had filled to the brim and dumped on the pool.
It served me right for wearing jeans to a pool. And really, I was a whole lot cooler in my little swim trunks and in the water!
I highly recommend this pool for families that are looking to cool off. Just wear swim suits or shorts or anything that actually makes sense for a Houston summer and a swimming pool.
Looking for more pools?
Check out Houston's free city pools HERE and free splashpads HERE.
Find Bellaire's Town Square Pool  HERE.
Find the Quillian Center's Noah's Ark HERE.
Find The Woodland's Pools HERE.