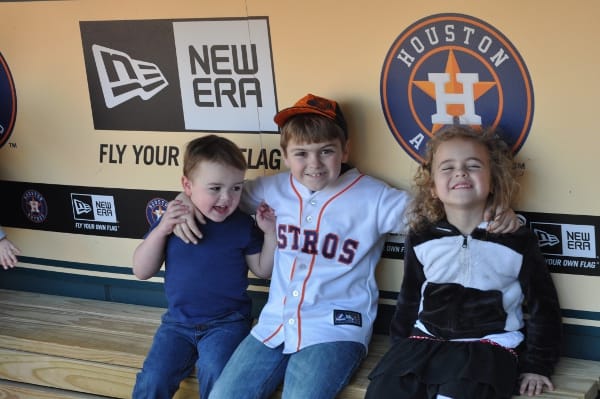 Baseball lover or not, you will have a great time at Minute Maid Park. Watch the game, watch the people or play at the stadium, here's what's to love about Astros games:
1. Reasonable tickets. Sit up high for less money.
2. Baseball! We love to watch the game.
3. It's air conditioned. On warm days, the roof is closed and the baseball game is nice and cool.
4. Dance your way onto the jumbo-tron. Really. Your moves might make it on the big screen.
5. Minute Maid Squeeze. There is a playground IN THE STADIUM!
6. Run the bases. After Sunday games, kids 5 and older can run on the field!
7. Be a Buddy! For $20, kids can get a membership that gets you 4 free tickets, a backpack, baseball cap, VIP access to running the bases, autograph sessions and a press conference. It's a really really good deal.
8. See the train! After each home run, the train heads down track!
9. Be a part of the excitement. Being in the stadium on game day is exciting. Baseball, music, food vendors, competitions and more. Pull up a (stadium) chair and watch all the fun.
Whether you love baseball or just the fun of the adventure, be sure to visit Minute Maid Park this season! Opening day is April 6, 2015 and you can find (often discounted) tickets HERE. The season goes through September, so you'll have a chance to visit many times.
If you want to get your own season tickets, contact Gordon Bowen, Houston Astros. 713.259.8788, gbowen@astros.com. If you are serious about the tickets, he might just give you a VIP tour. Tell him Jill at BigKidSmallCity sent you.