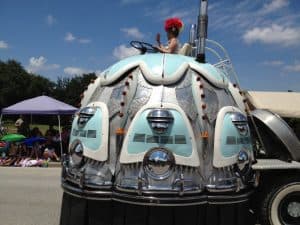 The Art Car Parade is Saturday, May 11, 2013 at 1:00pm on Allen Parkway. The fun starts today at Discovery Green tonight and lasts all weekend. Go HERE to learn more.
The Art Car Parade will run along Allen Parkway eastbound from Waugh Drive to Bagby St., making a loop around the Heritage Society, then heading back down Allen Parkway westbound. Go HERE for the map.
Get out and enjoy this unique Houston tradition!