Photo Credit: Tina Zulu
Architecture Center Houston's (ArCH) 10th Annual Gingerbread Build-Off with Santa is a free, family-friendly holiday event in Downtown Houston! It includes an epic, edible battle among dozens of teams, using entirely consumable building materials, as they compete for the coveted Grand Prix de Show. Additional category awards include Best Architectural Icon, Tallest Standing Structure, Best Traditionally (Holiday) Themed, Best Houston-centric Themed, Most Creative Interpretation of Materials, and Public Favorite.
Attendees can watch Houston's aspiring and top architects build epic gingerbread houses while enjoying hot chocolate, caroling, food trucks and photo opportunities with Santa. Young ones are invited to create their own mini gingerbread houses in the Kid's Construction Zone, where gingerbread supplies and candies are provided at no cost on a first-come, first served basis.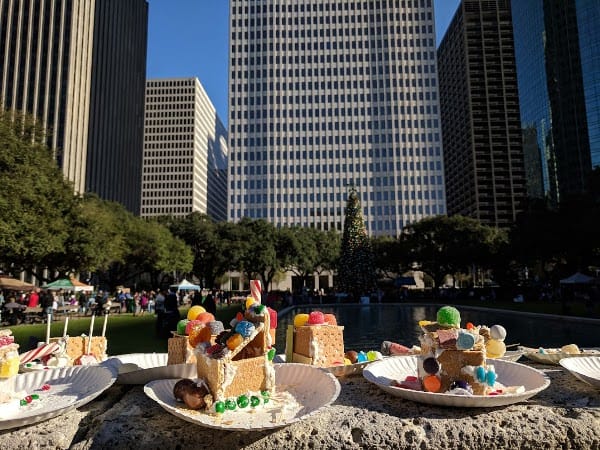 In addition to an independent judging panel of architecture and design professionals, four celebrity judges will round out the judging roster. Houston Life Co-Host Courtney Zavala, Houston Chronicle Senior Editor Lisa Gray, fashion designer and visual artist Selven O'Keef Jarmon, and co-owner of Three Brothers Bakery Robert "Bobby" Jucker will join Steve Stelzer, AIA, City of Houston, Green Building Resource Center and Caryn Ogier, AIA, President of ArCH.
The eco-conscious event will provide compost bins onsite for composting the event's food waste.
Get more details HERE!
December 8, 2018, 10 a.m. - 4:30 p.m.
Admission is free and open to the public
Hermann Square, City Hall
900 Smith Street
Downtown Houston