When you think of the sprawling metropolis of Houston, "farming" isn't a word that immediately comes to mind. For me, that changed four years ago when I met Stacey Roussel, the owner/founder of All We Need Farm in Needville, TX. At the time, she was providing organic veggies to several high end Houston restaurants and a CSA at the Rice Farmers Market.
In her former life, Stacey was an accountant before having children and becoming more passionate about knowing where your food comes from. She has taught me so much about the importance of buying local and what you can actually grow in Texas! Over time, Stacey transitioned away from vegetable farming and got into goats!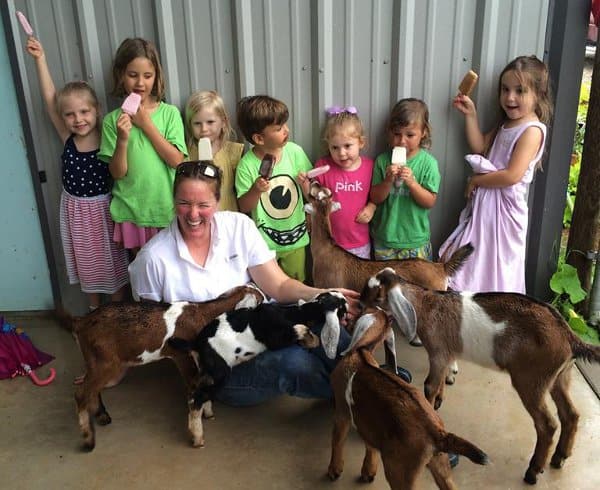 Stacey and her family now run a small dairy for her goats and have partnered with
Trentino Gelato
in Houston to make All We Need Farm Goats Milk Gelato Popsicles. They won 1st place in the 2016 Rodeo Houston's Best Bite Dessert Award for their Cajeta Goat's Milk Pops!
All of their pops are minimally processed with the best all-natural ingredients, with no preservatives or gums. They pride themselves on ingredient transparency and sustainability with free-range goats who are all fed non-GMO. When I learned she was open to having tours of her dairy, I knew we had to visit.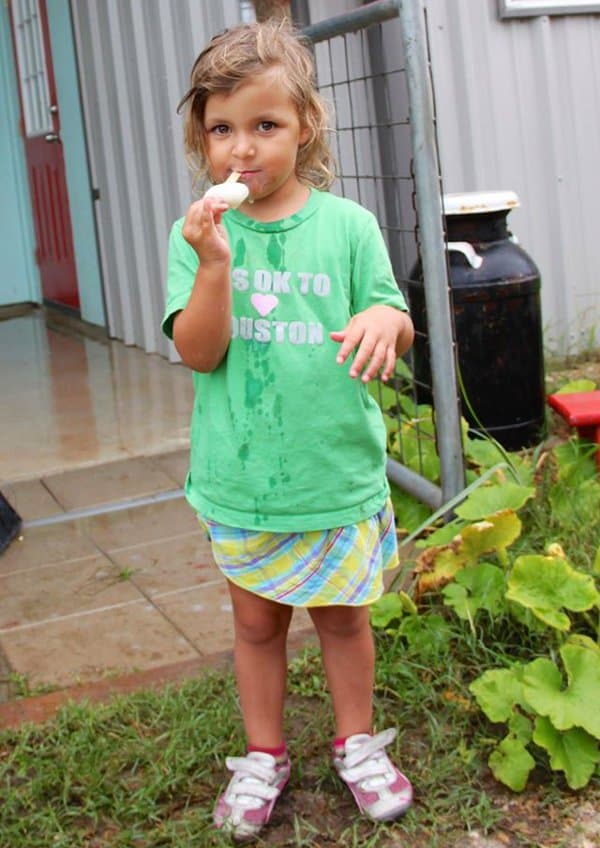 We arrived at All We Need Farm in Guy, TX we were greeted by Stacey and moved into the dairy room. We had seven kids with us all under the age of seven, so while tours usually start out with a more education and background, we instead opted to get them outside an meet the milking lady goats!
While the kids petted the goats and asked a million questions, Stacey proceeded to tell us about their breeds, milking practices, and small agriculture in Houston. After learning how she cares for the animals, we moved into the milking room.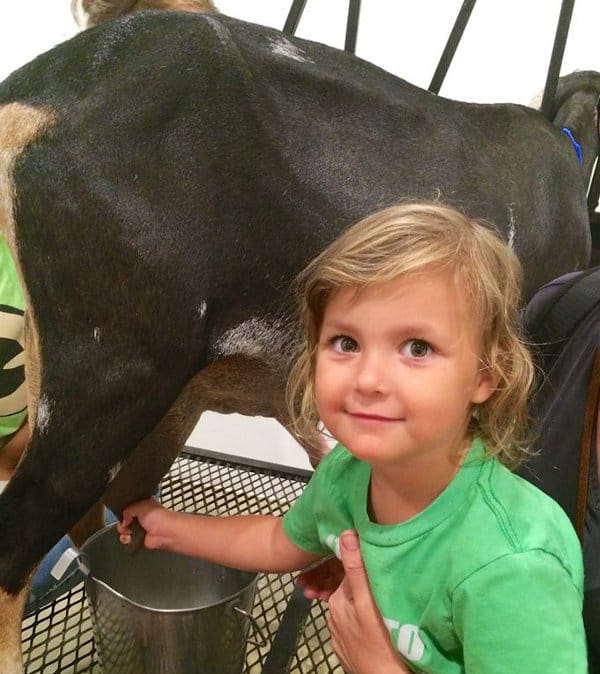 Stacey selected a goat for us named Reese and went through the milking procedures. She talked about health codes and precautions they take to make sure the milk is sanitary and the goats are healthy. 75% of the milk is pumped mechanically and the last 25% is hand expressed. This hand expressed milk is not used for popsicles, but goes to the baby goats and their heritage mama pig!
Each child (and adult) took turns milking Reese! Everyone was able to do it on the first try and the kids were delighted! Once our milking was complete, we cleaned up and were taken to where they store their milk until the "ice cream man" comes to take it.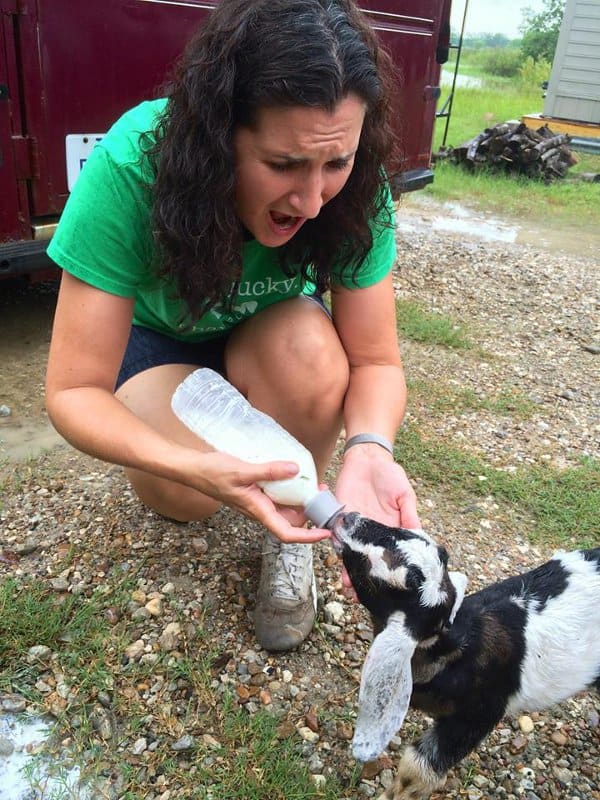 Of course, after all of our hard work, it was time for the reward and we all enjoyed different flavors of All We Need Farm Goats Milk Popsicles. Since it was kidding season, we also all got the chance to feed some ridiculously cute baby goats. All of our children got a kick out of petting and feeding these playful goat kids.
Tours are $10 per person and available by appointment by emailing Stacey directly (stacey_roussel@hotmail.com). Plan to spend about an hour and a half on the farm and dress in clothes you don't mind getting dirty. All tours end with a a popsicle!
Can't make it out to the farm? Don't worry!
You can buy All We Need Farms popsicles at select Houston restaurants like Underbelly, The Hay Merchant, Hunky Dory and Punks You'll also see her at Rice Farmers Market (Tuesdays) City Hall Famers Market (Wednesdays), and Eastside Farmers Market (Saturdays).
Stacey is always open to a chat about their farm and she is so patient with kids. I feel so lucky to know her and to be able to teach our kids a bit about where food comes from and that popsicles don't just magically appear in the store.
Plus, there was nothing better than seeing my six years old's camp instructor ask her what she did yesterday and have her reply "I milked a goat!"