My kids don't always agree. In fact, they probably disagree on what to do for fun more than they agree... but we found something that everyone liked to do!
After seeing a segment on Houston Life, we decided to head down to Galveston for the Bay  Watch Dolphin Tour!
This 45 minute tour heads out from Galveston's Pier 21 and is for all ages. Adults are $10, kids are $5 and babies are free.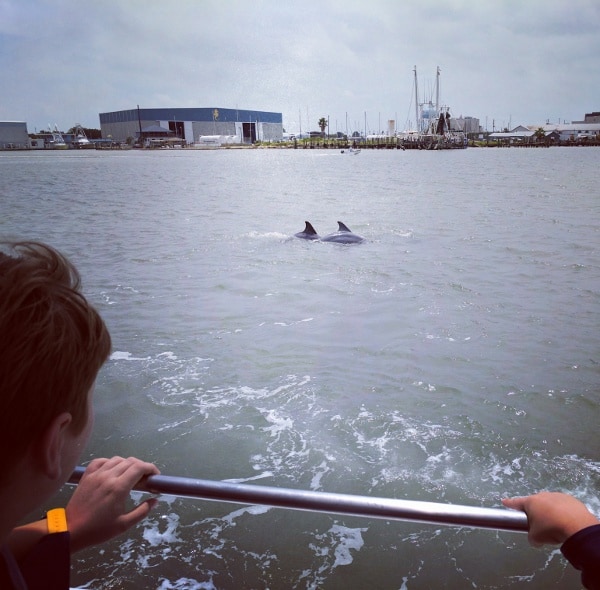 We rolled up, parked in the paid lot ($4/hour), bought our tickets and were on the boat a few minutes later. (The boat leaves on the hour, every hour.)
It wasn't long until we were in the bay and dolphins were swimming by our boat! I don't know what it is like every day, but we saw a lot of them close to us!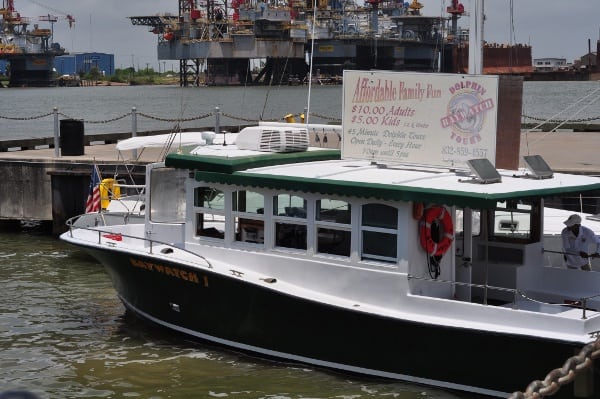 On this boat, you could sit on the front, inside in the middle or on the back. On the front you are in full sun and cannot stand up. In the middle, you are sheltered and can probably hear the tour guide clearly and in the back, where we sat, there was some shade, a great view of the dolphins and a lot of noise. It was hard to hear the tour guide... but I think we got the best look at the dolphins!
I also noticed other tours that were all outdoor shaded seating. These were slightly more expensive ($12 and $8... but some had kids under 5 were free... so do the math for your family and decide which is best).
All of the tours see the same bay, the dolphins and get to learn more about the places you see along the shore.
For us, it was a great hour of dolphin watch and EVERYONE was pleased with the trip!