The Christmas Trains have returned to Second Baptist... even to Woodway (which was under construction last year)!
At multiple locations, you can see the elaborate model train displays and even catch a storytime. Oh, at at Woodway, the toddler playground, Second City, is right next door!
The schedules are below and HERE... and all the displays and activities are free and open to everyone!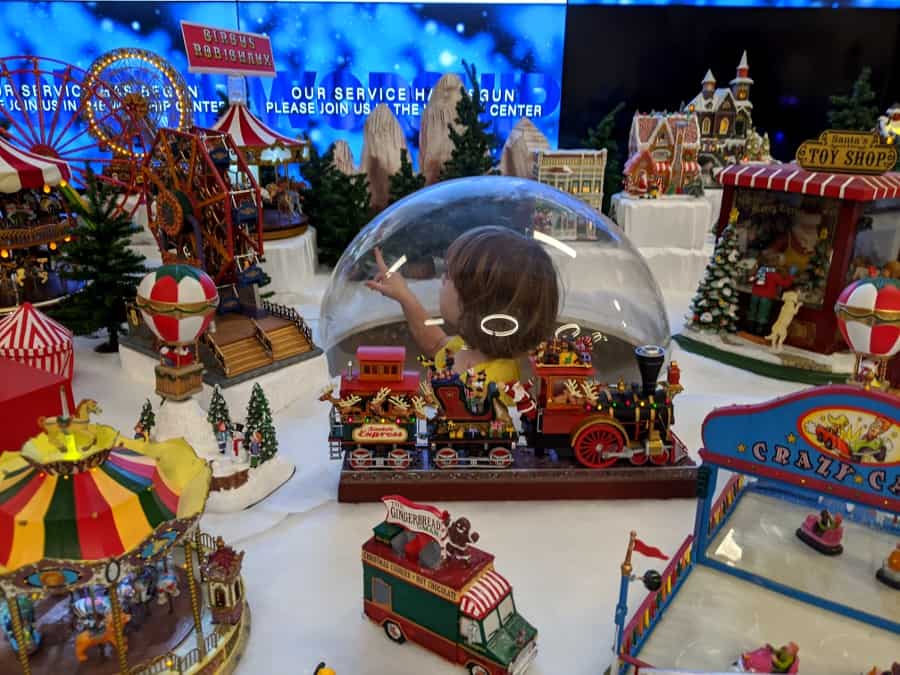 Woodway Campus - Atrium
December 7-29
Monday-Saturday - 10:00AM – 2:00PM + 30 minutes before & after weekend Worship services & "The Light Has Come" production
Closed Dec 25-26
West Campus - SE Lobby
Through December 29
Monday-Friday - 10:00AM – 12:00PM & 2:00PM-4:00PM + 30 minutes before & after each performance of Kids Crazy Christmas Show - Thu, Dec 19: 5:30-8:30PM - Fri, Dec 20: 9:30AM-Noon & 5:30-8:30PM - Sat, Dec 21: 9:30AM-Noon - Sun, Dec 22: 2:30-5:30PM, Christmas Eve - 1:30-2:00PM & 6:30-7PM, Sun, Dec 29: 9AM-12:30PM
North Campus - B-Lobby
December 1-29
Sun - 8:30AM – 12:30PM, Tue, Thu & Sat - 4:30-7:30PM
Story Time at the Trains - Thursday, Dec 12 & 19 at 10-11AM - B Bldg
South Campus
Story Time at the Trains in the Lobby - Thu, Dec 12 @ 10:00AM; Wed, Dec 18 @ 10:00AM; Mon, Dec 23 @ 10:00AM & 2:00PM
Cypress Campus - Lobby
December 1-30
Sunday - 8:30-9:40AM; 10:30-11AM; 12-1PM - Mon, Wed & Fri - 9-11AM; 1-3PM
1463 Campus - Lobby
Through December 24
Monday-Friday - 10AM – Noon & 2-5PM + 30 minutes Before & After Kids Crazy Christmas Shows (Dec 12 • 5:30/6:30PM showtimes - Dec 13 • 5:30/6:30PM showtimes - Dec 14 • 10/11AM showtimes)
Sunday Mornings: 9-9:30AM, 10:30-11AM & 12-1PM
They will also be running before & after Christmas Eve services, which are Mon, December 23 at 5:00PM (Live Nativity) and Tue, Dec 24 at 2, 4 & 6PM