Crocodile Encounter, Angleton, Texas – Unique Things to Do Around Houston!
Address:  23231 CR 48, Angleton, TX 77515
Cost:  Individual: $11.95, Families of 5 are $50 total and an $7 per person for each individual over the initial 5.
Appropriate Age:  Any Age!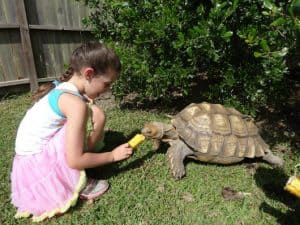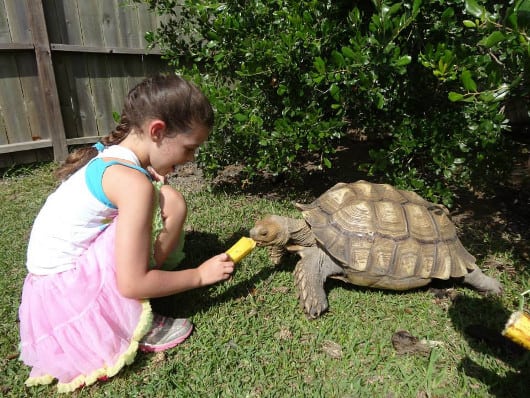 This is Shanna!  My kids and I are big fans of the Summer Reading Program at the Houston Public Library and try to go to as many of the events as possible.  Recently we attended the Crocodile Encounter program and the kids enjoyed seeing and learning about the different animals that they brought.
A few days later I did a little research online and found that Crocodile Encounter offers guided tours of their facility.  I immediately decided this was something we had to try.  The family tours are by appointment only and we signed up for a Sunday morning.
 It was a little farther than we typically go since it was about a 30 minute drive down 288, but the experience was well worth the trip.  Once we arrived we signed in at the little building to the left of the house.  Yes,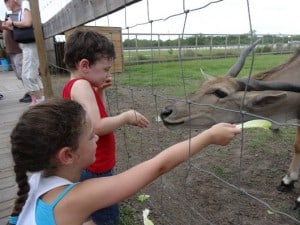 people do actually live here with all sorts of reptiles living in the space behind their home!
Our tour guide for the morning was Chris, the owner.  While still in the air conditioned building he told us a little about the facility then we were off to see the animals.  The first stop was right outside the back door and we got to see very rare tortoises that Chris and his wife bought for their kids when they were born.  You don't even want to know much these animals cost!  We also got to see and feed some large tortoises.  They love bananas (peel on!) and will follow you around like a dog if they think you'll feed them.  Obviously they are much slower than dogs, but I was surprised at how fast they could move when they wanted to!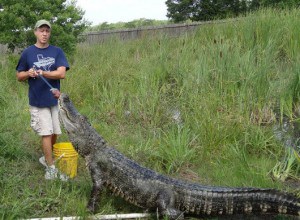 Later in the tour we also got to use the Romaine lettuce that we brought to feed a capybara (think really large rodent but more like a beaver, not a rat), warthogs, pot-bellied pigs, and 3 eland (large antelope).   The kids loved the feeding part of the tour, but they also enjoyed the reptiles.
We visited several alligator enclosures and Chris actually went inside the 2 that had the largest alligators.  He fed them meat off of a stick and these animals were really impressive.  They've been trained to come right up to him, but don't let any wild alligators get this close to you!
We also saw several Nile crocodiles.  These animals are much more aggressive than the alligators.  Chris went in the enclosure and fed them, but when they started coming at him from 3 different directions he decided that was enough and got out of there!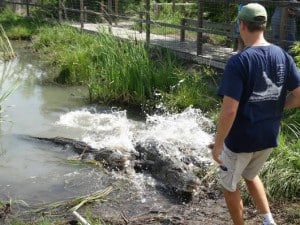 After that we went into the shed where the babies live.  We saw several baby crocodiles and even got to touch a baby alligator.  We also saw and touched a couple of monitors (large lizards).  Our final stop was back in the room where we started.  Here Chris took out a few snakes for everyone to look at and touch if we wanted.
Our whole family really enjoyed this trip.  Even if you don't like reptiles, there is a lot to see and learn and Chris assured us that no visitors have ever been hurt.
If you're worried about the fact that this is essentially in someone's backyard and the animals are being mistreated, don't.   Chris works with the Houston Zoo and the Downtown Aquarium and is very concerned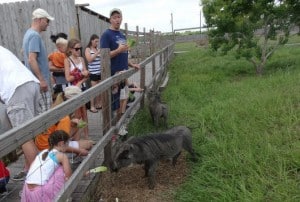 about the animals being in a natural environment that is appropriate for them.  He was a great guide, very knowledgeable about the animals, and took the time to answer the kids' questions.
We will probably be going back soon with members of our extended family and, as long as the weather is cooler, will probably bring a picnic lunch to Brazos Bend State Park so we can see some wild gators too!  Maybe we'll see you there… Just remember to bring your bananas and romaine lettuce because I doubt my kids will want to share!
Go HERE to learn more and schedule a tour!