Montrose HEB at West Alabama and Dunlavy to Open November 16, 2011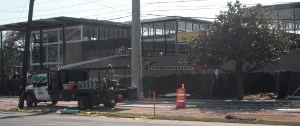 The new
HEB at the corner of West Alabama and Dunlavy is set to open on November 16, 2011 at 6:00am
. Like the store or not, it is sure to be grand.  There will be a huge produce selection with a focus on organic. When available, the available fish will be fresh, rather than frozen. Like cheese? There will be a lot of it. How about bread? My kids and I are looking forward to the bakery where everything is made from scratch.  If you need a prescription filled, you can use the onsite pharmacy.
The store will also have live cooking demonstrations where they focus on quick meals that you can make at home in 30 minutes and provide recommendations on wine. This store location will also offer cooking classes onsite, likely starting in January 2012, where you cook (and eat/drink) a five course meal with wine.  If you don't want to cook, HEB will have Cafe on the Run where you can buy meals to heat up or grab a gourmet sandwich.
There will likely be a lot of pedestrian traffic at the store, but for those that drive, there is a 400 space parking lot, designed around the grand old trees salvaged during the construction. The lot has approximately 100 more spaces than the Buffalo Speedway location. There is also an offsite employee only lot with security.  Plan on walking to the store?  You will need to buy what you can carry or bring your own push cart.  The HEB carts will not work once they leave the parking lot.
This HEB location has hired 400 employees, many from the immediate Montrose area, keeping their promise to the neighborhood. HEB has made many efforts to work with the neighbors, allowing them to pick the design of the building, select locations for pedestrian access, selecting the height of the fence and even flipping the layout of the lot so that the building would not back up to any residential properties on West Main Street.
Rumors are flying about the Fiesta located across the street. According to the store manager, they have no plans to move. I'm sure customers will still go there for fast shopping and to dance to the oldies music.