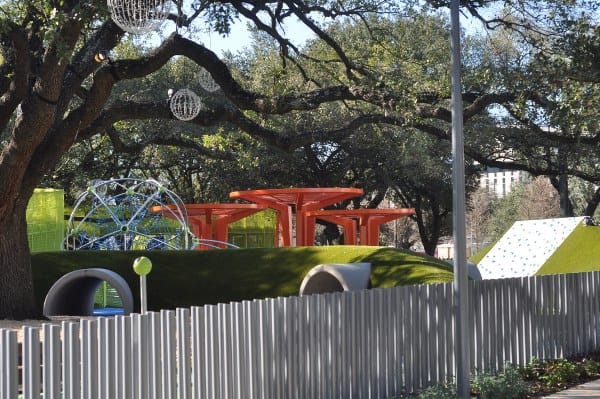 Address:
3801 Eastside, Houston, TX 77098
I am over-the-moon excited about the reopening of Levy Park. Friends, just look at these pictures (and my UPDATE below!).
Just like Discovery Green is a family destination in Downtown, Levy Park will be a great family destination near the Galleria.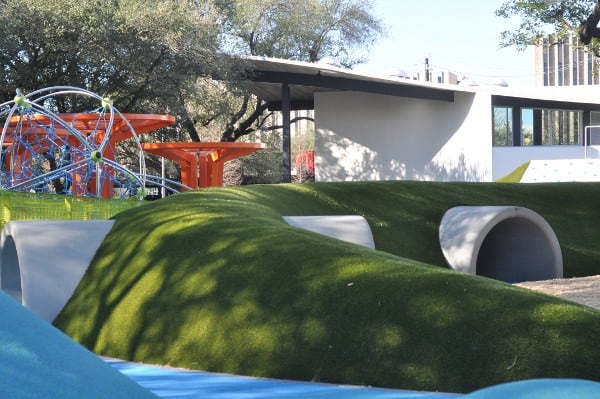 The park is located in the Upper Kirby District by Greenway Plaza. Right on Eastside, this big park is NOW open with a children's play area, spalsh area, dog park, performance stage and restaurant. (The grand re-opening is Saturday, February 5.)
The play area is fenced in with tunnels, a ball spider web, a big orange water feature (where water dumps from the top) and a rock wall that leads to a big slide! And there is a music square where kids can play music with their feet! Plus, it's all rubber and turf, so the mud and bugs should not be a huge issue.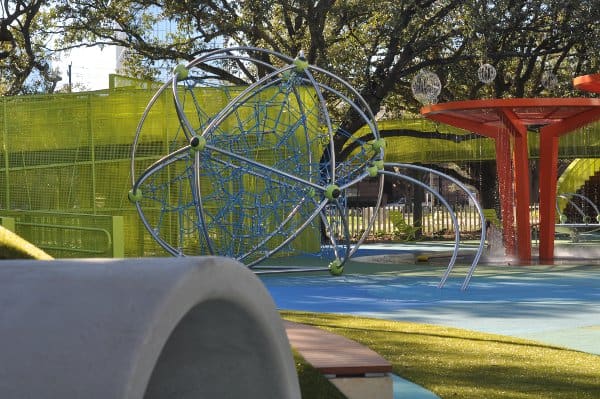 The neon yellow-green mesh is a long walkway on overlook. Isn't it cool?
AND this park is partly shaded! The conservancy went to great efforts to save and relocated the giant trees.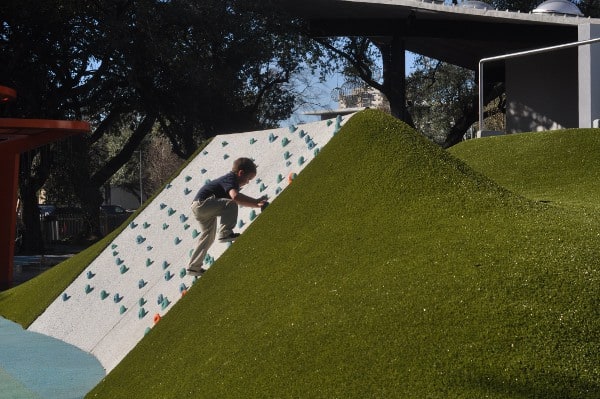 Levy Park will host a ton of free classes and activities. There will be daily yoga, music performances and kids programming.
The conservancy is bringing programming to the park through partners like Houston Public Libraries, Writers in the Schools, Young Audiences of Houston, Houston Natural Science Museum, MET dance, Tai Chi, piano concerts on Wednesdays at noon, Sahaja Yoga Meditation, and much much more.
See more on the website HERE.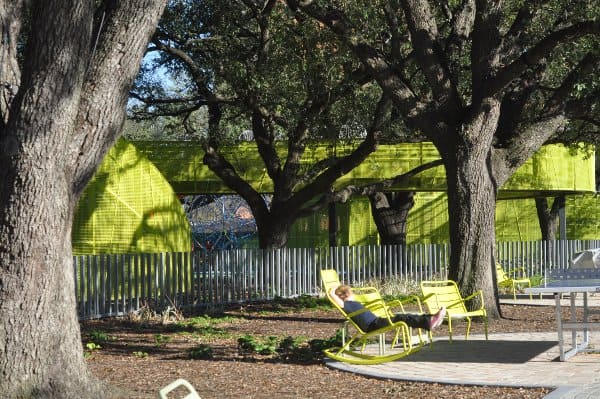 Parking is available on both Eastside and Wakeforest, and there are 900 spaces in the One Grove building garage available for a $2/hour fee.
Take a look at these amazing pictures… and I'll see you at Levy Park!
 UPDATE:
 We've now played at Levy Park on just about every single day since it re-opened. Here's what we think now…
My kids love love love the park.
The game cart, art cart, book carts, table tennis tables, foosball, mini golf equipment and giant blue blocks have been out every day. So far it's all on the honor system and the park staff intends to keep it this way unless a lot of items go missing.
The playground is very very unique and my kids adore it. The water feature is on each day and there is a lot to do in this fenced in area.
There is a music square (see the video above), a lilypad you stand on and wiggle a ball through the maze, a modern merry-go-round, a circle spider web, a rock wall, giant slide and more.
My kids are now 5, 7 and 9 (and an infant), and they know to stick together (or else!). I have not had trouble following them, but the park has been very popular and I've watched a lot of other parents watch their kids. Here's what I've observed…
There are a lot of hills and tunnels and walk ways… and if the little kids are running, it can be hard to see without following along. Also, the giant slide is really cool (and one of our favorite things to do), but it's fast. Little ones have to be extra careful not to launch off the end!
Still, for us, we love love love the park and the playground!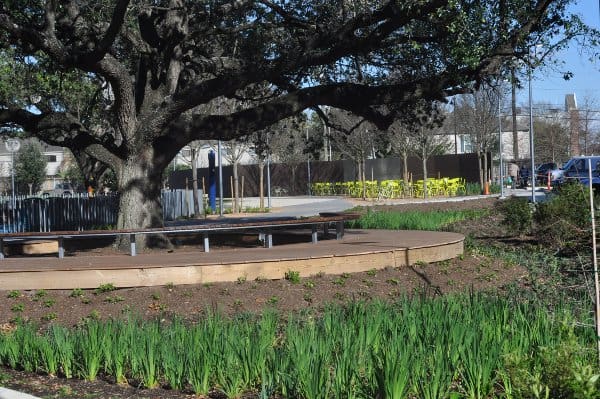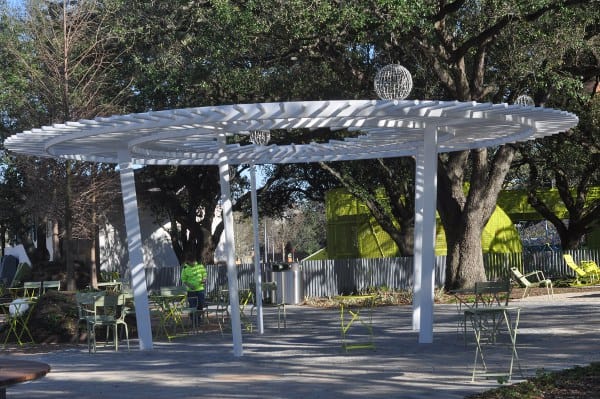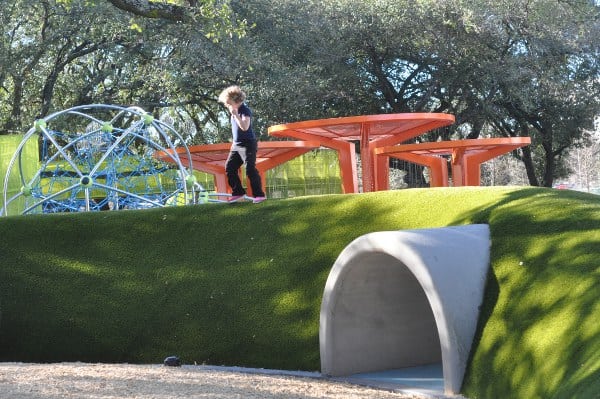 Find more Houston parks: