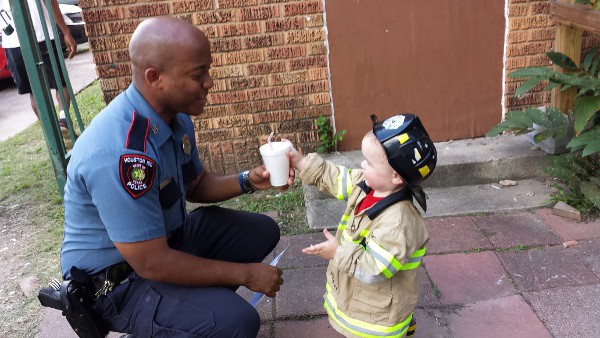 My littlest little kids are too young to volunteer around Houston. At the
Houston Food Bank
, for example, kids must be 6 years old to volunteer. Even so, I want even my youngest kids to know what it feels like to be compassionate and to help others. To help design our own "kind days", I asked the BigKidSmallCity community for ideas... and this is what Houston parents suggested!
Take cookies, cards, or goody bags to a senior living facility. They love young guests!
Sing carols for your elderly neighbors or get a list of home bound people from your church and make a special trip to sing for them.
Organize a neighborhood food drive and drop off the food at a donation center.
Bake something for the firehouse or the police station and deliver it.
Send Christmas cards to those serving in the armed forces over seas.
Make homemade Christmas cards with words of hope and inspiration to give to those who need cheering during the holidays!
Most churches will deliver meals on holidays. Take the family and deliver a meal.
Take toys to the Operation Stocking Stuffer at the fire stations.
See what kind of items are needed at the a women's and children's shelter, then collect those.
Make a Christmas tree for the birds with popcorn garland and birdseed ornaments.
Candy cane bomb a school parking lot where the teachers park.
Donate cookie decorating bags to a food pantry to distribute (include cookie dough mix, icing, sprinkles, a few cookie cutters, and a small gift card to a grocery store to cover perishable items).
Little Lights is an organization for young kids.
Put quarters on machines at laundromat.
Assemble blessing bags and make a trip to deliver them.
The Food Bank has family night once per month. Kids as young as 6 can volunteer, and siblings as young as 4 can come and work on crafts.
Sponsor a pet at a local shelter. Help with food and perhaps take the pet for a walk if the shelter allows.
Clean up parks with the kids.
What other ideas do you have?