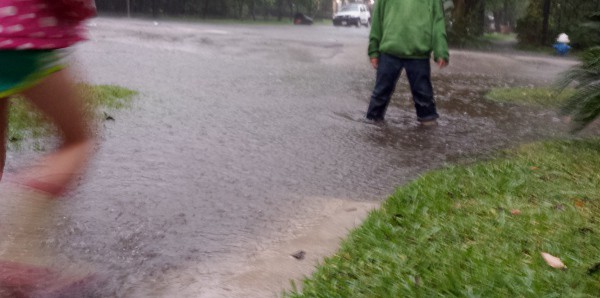 Last week I was walking through the rain and a complete stranger stopped and gave me her umbrella. And this is the not the first time a stranger has helped me in Houston.
So, it should be no surprise what I see in the BigKidSmallCity community... Even if YOUR house is dry, you want to HELP other Houstonians. But where do you start?
Whether you want to donate time, money or supplies, here are the suggestions from Houston parents. If you have more suggestions, please let us know!
From the Mayor's office: Register with Volunteer Houston and be trained and connected with with opportunities.
Volunteer with the Red Cross:  Volunteers are greatly needed to staff shelters as well as distribute food and provide other services to those in need. Training will be provided on site. Anyone interested in assisting this way is encouraged to go to RedCross.org or call 713.313.5491.
Donate Money to the Red Cross:  Donate money to flood relief on RedCross.org.
Donate Blood with the Red Cross:  Blood donations are needed. Go to RedCross.org.
Donate Supplies:  Bring boxes, bubble wrap, moving supplies, cleaning supplies, as well as canned goods and non-perishable food items. Bring them to West University Wellness at 5180 Buffalo Speedway. These will be delivered to the JCC.
Connect with Flood Victims & Volunteers:  Join the Houston Flood Resource/Support Group.
Help in Meyerland:  If you need help or want to help in Meyerland, go to Kolter Elementary School. They have supplies and volunteers.
Be a Really Good Friend:  One Houston mom did this over Memorial Day... and you can do it again now. Load your car with bottles of water, $1 cheeseburgers from McDonald's (or chips/granola bars/whatever), large black trash bags, sharpies, rubber gloves, etc. Drive through an a flooded neighborhood and hand out supplies and encouragement.
Another Way to Be a Really Good Friend: Offer to watch kids for friends so they can clean out their homes or volunteer to help others. Even if it is only for a few hours.
Find Clothes or Give Clothes:  Contact Clothed by Faith. They always help kids in CPS care, victims of human trafficking and are now helping flood victims.