Local Fire Station Visit
Address:  Find your local fire station HERE.
Hours: Anytime, as long as the firefighters are available.
Cost:  Free. (Or the cost of a box of cookies.)
Appropriate Age:   All ages.
Our Review:  My son the fireman, loves the local fire station. We visit it weekly (an sometimes daily). We buy cookies from the grocery store (although I'm sure they would love homemade too) and walk them over to the station. We just go in the garage and usually there is someone around. (Of course, sometimes they are busy and sometimes the trucks are gone, so we have to be flexible.)  When they ask if they can help us, we present the cookies and they usually offer to show the kids the truck and take a tour. We've even been invited in for dinner.
I personally find the fire station very useful, because when fireman Joe does not believe what I tell him, we head to the fire station. We've been so often (with cookies) that the fireman are very welcoming and know just how to answer our questions. Some of my very favorites have been... "Do fireman wear Christmas pajamas?" and "Do fireman kiss their moms?". The fireman at our local station always get the answer right.
Of course, we occasionally get the non-social fireman who just takes the cookies and says thank you. If this happens to you, do not be discouraged and try again. Worst case, you are thanking the firemen for their service. Best case, you get a personal tour of the fire station and the kids get to "drive" the truck.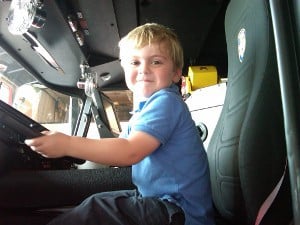 You can also request a fire station tour for an organization or for a truck to go to your school. Go Here. I have had the truck go to my son's preschool. The only issue I had with the online form was that I never got a confirmation of when they would come. The truck just showed up on the date I suggested. It was a nice little surprise (but a surprise). Lucky for Joe, he had worn his fireman uniform to school that day (like most days) and he was ready.