Freebirds World Burrito


Address:   Multiple. We visited the Shepherd Plaza Freebirds at 3745 Greenbriar Houston, TX 77098
Cost:   Reasonable… but not McDonald's cheap.
Appropriate Age:   Any age (that will eat a burrito or quesadilla and doesn't mind the noise).


Our Review: 
Freebirds
is a fast food chain, but the location in Shepherd Plaza has a cool Austin feel. It's a little tricky to get to with the one way streets around it, and it's in a strip mall, but once you walk in the door, you feel like you could be on 6th Street in Austin.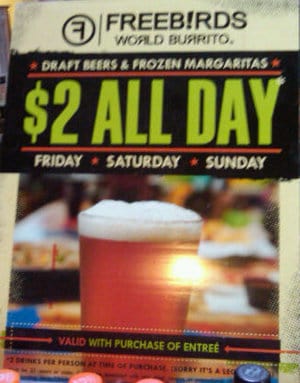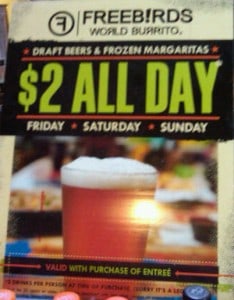 At the Shepherd location, each weekend there is live music from 10:00 – 4:00. For details, check the
WEBSITE
.  They also have $2 beers and frozen margaritas and $8 bottomless mimosas.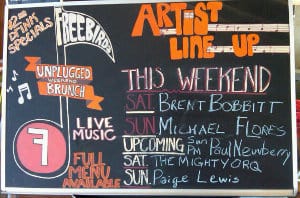 The music was very good and it was nice to be out at a "hip" lunch with kids.
Freebirds
is casual, so we were not out of place. The music is loud, but it did not bother my sleeping 2 year old or my wide awake 4 year old.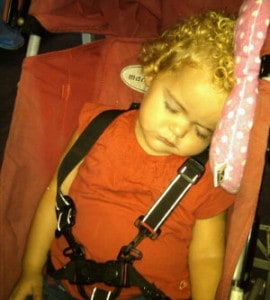 We ordered a kid's burrito with chips and drink for $3.09 and my husband and I shared a Monster Veggie burrito for $6.49. It was plenty of food for all of us. Had Brooke been awake, we'd have either ordered another kid's burrito or ordered an adult Hybird burrito (starting at $5.00) for the kids to share.  You can also add a fountain drink and chips and guac/queso/salsa or fountain drink and cookie for $2.79.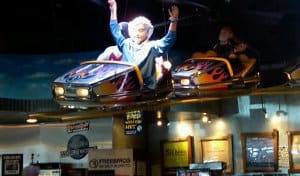 My 4 year old thought the restaurant was a lot of fun and liked sitting up high on the bar stools. (There are also regular tables and highchairs.) My husband and I also liked our cool lunch spot. We'll be back to this location for sure.